Skyrim:Snowberries
The UESPWiki – Your source for The Elder Scrolls since 1995
Snowberries
00

01b3bd

4
0.1
Alchemy Effects
1st
 Resist Fire
2nd
 Fortify Enchanting
3rd
 Resist Frost
4th
 Resist Shock
Sources
# Samples
142
Plant
Snowberry
# Plants
1578
Garden HF
4
Merchant Avail.
Common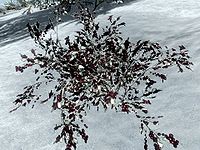 Snowberries are harvested from the snowberry plant, which is commonly found near the snowline. Snowberries are the only ingredient which has all three resist elemental effects: fire, frost and shock.
Combinations
[
edit
]
In terms of combinations of two ingredients, Snowberries can be combined with 42 other ingredients.
2 Effects
[
edit
]
1 Effect
[
edit
]
| Desired Effect | Combine with: |
| --- | --- |
|  Resist Fire | Ash Creep ClusterDB, Ashen Grass PodDB (1.34×,1.36×), Bone Meal, Dragon's Tongue, Elves Ear, Fire Salts, Fire PetalCC (1.33×,1.36×), Fly Amanita, Gnarl BarkCC (1.33×,1.36×), Mudcrab Chitin, Sload SoapCC (1.33×,1.36×) |
|  Fortify Enchanting | Ancestor Moth WingDG, Blue Butterfly Wing, Chaurus Hunter AntennaeDG, Dreugh WaxCC (2.0×,2.14×), Hagraven Claw, Spriggan Sap, Stoneflower PetalsCC (2.0×,2.14×) |
|  Resist Frost | Daedroth TeethCC (1.33×,1.36×), Flame StalkCC (1.33×,1.36×), Frost Mirriam, Frost Salts, Hydnum Azure Giant SporeCC (1.33×,1.36×), Moon Sugar, Purple Mountain Flower, Redwort FlowerCC (1.33×,1.36×), Silverside Perch, Slaughterfish Scales, Small Pearl, Steel-Blue EntolomaCC, Thistle Branch |
|  Resist Shock | Ash Hopper JellyDB, Blue Dartwing, Corkbulb RootCC (1.33×,1.36×), Glow Dust, Glowing Mushroom, Kagouti HideCC (1.33×,1.36×), Pearl, Pine Thrush Egg, Swamp Fungal Pod |
Ingredients
[
edit
]
142 guaranteed samples can be found in 66 different locations. Locations with the greatest numbers are:
It is categorized as a common ingredient, meaning that all apothecary merchants have a 36% chance of carrying 1-5 samples. In addition, it may be randomly found in some barrels and in apothecary's satchels.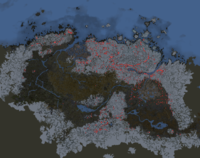 1578 snowberry plants are found in 208 different locations. Locations with the greatest numbers are:
Snowberries are also categorized as food, meaning they can be sold to innkeepers as well as apothecary merchants.
In addition to alchemy, they are used in baking the Snowberry CrostataHF and the Lavender DumplingHF.
Snowberry bushes actually come in two different versions: one dusted with snow and another that is snow free. Both yield the same ingredient, however.
Snowberries seem to be based off the real-world Holly tree, such as the leaf shape, berry color and fruit growth formation. However, Holly is a tall tree in real life, and the Snowberry is a bush in the game.