Skyrim:Thistle Branch
The UESPWiki – Your source for The Elder Scrolls since 1995
Thistle Branch
00

0134aa

1
0.1
Alchemy Effects
1st
 Resist Frost
2nd
 Ravage Stamina
3rd
 Resist Poison (0.75×,0×,0.1×)
4th
 Fortify Heavy Armor
Sources
# Samples
46
Plant
Thistle
# Plants
775
Garden HF
3
Merchant Avail.
Common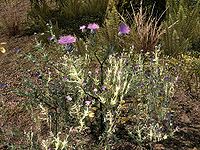 Thistle Branches are harvested from thistle plants, found at lower elevations, especially in the southern pine forests.
Combinations
[
edit
]
In terms of combinations of two ingredients, Thistle Branch can be combined with 41 other ingredients.
2 Effects
[
edit
]
1 Effect
[
edit
]
| Desired Effect | Combine with: |
| --- | --- |
|  Resist Frost | Daedroth TeethCC (1.33×,1.36×), Flame StalkCC (1.33×,1.36×), Frost Mirriam, Frost Salts, Hawk Beak, Hydnum Azure Giant SporeCC (1.33×,1.36×), Moon Sugar, Purple Mountain Flower, Redwort FlowerCC (1.33×,1.36×), Silverside Perch, Small Pearl, Snowberries, Steel-Blue EntolomaCC |
|  Ravage Stamina | Bee, Berit's Ashes, Bone Meal, Bungler's BaneCC (1.5×,3.34×), Deathbell (2.1×), Honeycomb, Hypha FaciaCC (1.5×,3.34×), ScathecrawDB, Spawn AshDB |
|  Resist Poison | Beehive Husk (0.5×,0.46×), Charred Skeever Hide, Falmer Ear, Garlic, Grass Pod, Minotaur HornCC (1.25×,1.27×), Mudcrab Chitin, Ogre's TeethCC (1.25×,1.27×), Slaughterfish Egg, Troll Fat, Wild Grass PodCC, Yellow Mountain FlowerDG |
|  Fortify Heavy Armor | Bliss Bug ThoraxCC, Bog BeaconCC (1.5×,1.56×), Gnarl BarkCC (1.5×,1.56×), Ice Wraith Teeth, Sabre Cat Tooth, White Cap |
Ingredients
[
edit
]
46 guaranteed samples can be found in 36 different locations. Locations with the multiple samples are:
It is categorized as a common ingredient, meaning that all apothecary merchants have a 36% chance of carrying 1-5 samples. In addition, it may be randomly found in some barrels and in apothecary's satchels.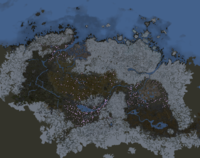 775 thistle plants are found in 119 different locations. Locations with the greatest numbers are:
The base magnitude of the Resist Poison effect for this ingredient is 3 instead of 4 and its duration is 0 instead of 60. This is only relevant if beehive husk and thistle branch are combined, in which case the resulting potion will have a 50% smaller magnitude than a typical custom Resist Poison potion—the magnitude and duration are controlled by the properties of the beehive husk effect.