Skyrim:The Guardian Stones
The UESPWiki – Your source for The Elder Scrolls since 1995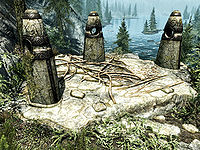 The Guardian Stones is a location which marks three Standing Stones located directly outside of Helgen and Riverwood.
They are likely the first standing stones you will encounter, since they are on the path taken while being escorted by Ralof or Hadvar to Riverwood. The stones are The Mage Stone, The Thief Stone, and The Warrior Stone. If selected, they allow you to specialize in magic, stealth or combat skills respectively, by gaining 20% more experience in those skills. Archery is considered a stealth skill in this context.
Achievements
[
edit
]
Achievements related to the Standing Stones are:
Archery benefits from the Thief Stone's bonus, though it is otherwise considered a combat skill (in internal game data, for the Oghma Infinium and for the Bards College sidequests).

This issue has been addressed by version 1.2 of the Unofficial Skyrim Patch; the Warrior Stone's bonus is now assigned to the skill.

Using the Aetherial CrownDG makes it possible to maximize the benefits of The Guardian Stones by using it with The Lover Stone.
There is an unmarked shrine of Talos to the southwest, surrounded by four dead worshippers and a dead Thalmor soldier, with a note regarding his motives. His body can be found sometimes below the shrine. Further below to the west is an iron ore vein. Offerings to the shrine includes one-handed weapon and some gold.
Further west is an unmarked necromancer's site close to road that runs along south shore of Lake Ilinalta, connected to the road by short track going south. The site is occupied by a leveled necromancer. Between eight pillars is an altar with lootable skeleton, conjuration skill book 2920, Hearth Fire, v9, one-handed sword, two gold coins and ebalming tool. Next to the altar is a burial urn, some skeletal remains and very close is a patch of nightshade.
Not far from unmarked necromancer's site due to southwest are three trunks and two logs. south from the farthest log is the unique axe The Woodsman's Friend.
Three leveled bandits have established a camp directly south of the Guardian Stones, just south of the road that runs along the south shore of Lake Ilinalta (map). Their belongings include a satchel containing random alchemical ingredients, a black mage robe, a treasure map and a copy of the one-handed skill book Night Falls on Sentinel.
Following the road to the west and heading down reveals an iron ore vein followed by unmarked fisherman's camp. The camp contains a novice locked chest and some other owned items.
One clay depositHF can be found just west of here, on the opposite side of the lake.
Gallery
[
edit
]