Skyrim:Frost Salts
The UESPWiki – Your source for The Elder Scrolls since 1995
Frost Salts
00

03ad5f

100
0.25
Alchemy Effects
1st
 Weakness to Fire
2nd
 Resist Frost
3rd
 Restore Magicka
4th
 Fortify Conjuration
Sources
# Samples
47
Creature
Frost Atronach
Merchant Avail.
Rare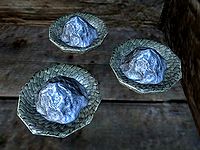 Frost Salts are dropped by frost atronachs.
Combinations
[
edit
]
In terms of combinations of two ingredients, Frost Salts can be combined with 56 other ingredients.
3 Effects
[
edit
]
2 Effects
[
edit
]
1 Effect
[
edit
]
| Desired Effect | Combine with: |
| --- | --- |
|  Weakness to Fire | Bleeding Crown, Bliss Bug ThoraxCC, Burnt Spriggan WoodDB, Hunger TongueCC (1.33×,2×,2.93×), Ice Wraith Teeth, Imp GallCC (1.33×,1.36×), Juniper Berries, Powdered Mammoth Tusk |
|  Resist Frost | Daedroth TeethCC (1.33×,1.36×), Frost Mirriam, Hawk Beak, Hydnum Azure Giant SporeCC (1.33×,1.36×), Purple Mountain Flower, Redwort FlowerCC (1.33×,1.36×), Silverside Perch, Slaughterfish Scales, Small Pearl, Snowberries, Thistle Branch |
|  Restore Magicka | Blister Pod CapCC (1.2×,1.22×), Bog BeaconCC (1.2×,1.22×), Briar Heart, ComberryCC (1.2×,1.22×), Creep Cluster, Dwarven Oil, Ectoplasm, Elves Ear, Elytra IchorCC (1.2×,1.22×), Fire Salts, Fungus StalkCC (1.2×,1.22×), Giant Lichen, Grass Pod, Green Butterfly WingCC, Human Flesh, LichorCC (1.2×,1.22×), Mora Tapinella, Pearl, Red Mountain Flower, Taproot, Vampire Dust, White Cap, Wild Grass PodCC, Withering MoonCC (1.2×,1.22×) |
|  Fortify Conjuration | Ancestor Moth WingDG, Berit's Ashes, Blue Butterfly Wing, Blue Mountain Flower, Bone Meal, Chaurus Hunter AntennaeDG, Hagraven Feathers, Lavender, Sload SoapCC (1.2×,1.22×) |
Ingredients
[
edit
]
47-49(DG) guaranteed samples can be found in 33-34(DG) different locations. Locations with multiple samples are:
It is categorized as a rare ingredient, meaning that most apothecary merchants have a 21% chance of carrying 1-4 samples. In addition, it may be randomly found only in rare-type apothecary's satchels. Other possible locations for already-harvested samples include:
Creatures
[
edit
]
Frost salts are dropped by both frost atronachs and frost thralls.
Related Quests
[
edit
]