Skyrim:Human Flesh
The UESPWiki – Your source for The Elder Scrolls since 1995
Human Flesh
00

1016b3

1
0.25
Alchemy Effects
1st
 Damage Health
2nd
 Paralysis
3rd
 Restore Magicka
4th
 Fortify Sneak
Sources
# Samples
14
Merchant Avail.
None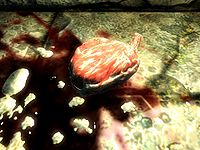 Human Flesh can be found in locations where people have performed the Black Sacrament ritual to summon the Dark Brotherhood (along with human hearts), and in a few necromancer dungeons. Flesh cannot be taken from dead humans. It is easily overlooked because it looks like raw beef.
Combinations
[
edit
]
2 Effects
[
edit
]
1 Effect
[
edit
]
| Desired Effect | Combine with: |
| --- | --- |
|  Damage Health | Crimson Nirnroot (3.0×), Deathbell (1.5×), Emperor Parasol MossDB, Falmer Ear, Human Heart, Mort FleshCC, Nightshade, Nirnroot (12.6×), Poison BloomDG (1.5×), River Betty (2.5×), Skeever Tail, Small Antlers, Troll Fat, Void Salts |
|  Paralysis | Canis Root, GleamblossomDG, Netch JellyDB, Swamp Fungal Pod |
|  Restore Magicka | Creep Cluster, Dwarven Oil, Elves Ear, Fire Salts, Frost Salts, Giant Lichen, Grass Pod, Moon Sugar, Mora Tapinella, Pearl, Steel-Blue EntolomaCC, Taproot, Vampire Dust, White Cap, Wild Grass PodCC |
|  Fortify Sneak | Abecean Longfin, Ashen Grass PodDB, Beehive Husk, Frost Mirriam, Hawk Feathers, Powdered Mammoth Tusk, Purple Mountain Flower |
Ingredients
[
edit
]
24 guaranteed samples can be found in 8 different locations:
This ingredient is not in the VendorItemIngredient category that allows it to be traded by apothecary merchants (see bugs).
The only other ways to obtain human flesh all have relatively low probabilities. The best bets are:
This ingredient cannot be sold to apothecary merchants; it can only be sold to general goods merchants.