Skyrim:Imp Stool
The UESPWiki – Your source for The Elder Scrolls since 1995
Imp Stool
00

04da23

0
0.3
Alchemy Effects
1st
 Damage Health
2nd
 Lingering Damage Health
3rd
 Paralysis
4th
 Restore Health (0.6×,0.57×)
Sources
# Samples
20
Plant
Imp Stool
# Plants
283
Garden HF
4
Merchant Avail.
Rare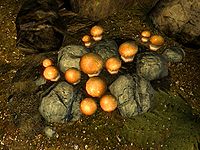 Imp Stool is a fungus found in caves. It tends to be situated near the edges where wall and floor meet.
Combinations
[
edit
]
2 Effects
[
edit
]
1 Effect
[
edit
]
| Desired Effect | Combine with: |
| --- | --- |
|  Damage Health | Crimson Nirnroot (3.0×), Deathbell (1.5×), Ectoplasm, Emperor Parasol MossDB, Falmer Ear, Human Heart, Mort FleshCC, Nightshade, Nirnroot (12.6×), Poison BloomDG (1.5×), Red Mountain Flower, River Betty (2.5×), Skeever Tail, Small Antlers, Troll Fat, Void Salts |
|  Lingering Damage Health | Mora Tapinella, Orange Dartwing, ScathecrawDB, Slaughterfish Egg, Slaughterfish Scales |
|  Paralysis | Briar Heart, Canis Root, GleamblossomDG, Netch JellyDB |
|  Restore Health | Ash Hopper JellyDB, Blisterwort (0.6×), Blue Dartwing, Blue Mountain Flower, Butterfly Wing, Charred Skeever Hide, Daedra Heart, Eye of Sabre Cat, Felsaad Tern FeathersDB, Rock Warbler Egg, Wheat |
Ingredients
[
edit
]
20 guaranteed samples can be found in 15 different locations. Locations with multiple samples are:
It is categorized as a rare ingredient, meaning that most apothecary merchants have a 21% chance of carrying 1-4 samples. In addition, it may be randomly found only in rare-type apothecary's satchels.
283 imp stool plants can be found in 54 different locations. Locations with the greatest numbers are:
The base magnitude of the Restore Health effect for this ingredient is 3 instead of 5. This is only relevant if blisterwort and imp stool are combined, in which case the resulting potion will have a 40% smaller magnitude than a typical custom Restore Health potion.