Skyrim:Void Salts
The UESPWiki – Your source for The Elder Scrolls since 1995
Void Salts
00

03ad60

125
0.2
Alchemy Effects
1st
 Weakness to Shock
2nd
 Resist Magic
3rd
 Damage Health
4th
 Fortify Magicka
Sources
# Samples
49
Creature
Storm Atronachs
Merchant Avail.
Rare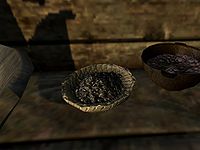 Void Salts are dropped by storm atronachs.
Combinations
[
edit
]
In terms of combinations of two ingredients, Void Salts can be combined with 56 other ingredients.
2 Effects
[
edit
]
1 Effect
[
edit
]
| Desired Effect | Combine with: |
| --- | --- |
|  Weakness to Shock | Ashen Grass PodDB, Bee, Giant Lichen, Hagraven Feathers, Ogre's TeethCC (1.33×,1.36×) , Trama RootDB |
|  Resist Magic | Aster Bloom CoreCC (1.2×,1.22×), Bleeding Crown, Bungler's BaneCC (1.2×,1.22×), Chicken's Egg, Felsaad Tern FeathersDB, GleamblossomDG, Hagraven Claw, Hawk's EggHF, Hypha FaciaCC (1.2×,1.22×), Lavender, Wisp Wrappings |
|  Damage Health | ChokeberryCC (1.5×,1.56×), Coda FlowerCC (1.5×,1.56×), Deathbell (1.5×), Falmer Ear, Fire PetalCC (1.5×,1.56×), Gnarl BarkCC (1.5×,1.56×), Human Flesh, Human Heart, Imp GallCC (1.5×,1.56×), Imp Stool, Jarrin Root (100×), Mort FleshCC, Nightshade, Poison BloomDG (1.5×), Redwort FlowerCC (1.5×,1.56×), River Betty (2.5×), Scalon FinCC (1.5×,1.56×), Skeever Tail, Small Antlers, Troll Fat, Wisp Stalk CapsCC (1.5×,1.56×) |
|  Fortify Magicka | Blind Watcher's EyeCC (1.25×,1.27×), Blister Pod CapCC (1.25×,1.27×), Briar Heart, Histcarp, Hunger TongueCC (1.25×,1.27×), Jazbay Grapes, LichorCC (1.25×,1.27×), Red Kelp Gas BladderCC (1.25×,1.27×), Salmon RoeHF (12.5×, 0.08×, 1.05×), SaltriceCC (1.25×,1.27×), Watcher's EyeCC (1.25×,1.27×) |
Ingredients
[
edit
]
49 guaranteed samples can be found in 32 different locations. Locations with multiple samples are:
It is categorized as a rare ingredient, meaning that most apothecary merchants have a 21% chance of carrying 1-4 samples. In addition, it may be randomly found only in rare-type apothecary's satchels. Other possible locations for already-harvested samples include:
Creatures
[
edit
]
Void salts are dropped by all varieties of storm atronach, including Pelagius's storm thrall, potent storm atronachs, and storm thralls.
Related Quests
[
edit
]
Fine-cut void salts may cause all of your regular void salts to be unusable to upgrade blacksmithing items such as the Nightingale armor.

To fix this, simply give the fine-cut void salts to Captain Wayfinder in Dawnstar.

Combining void salts with the fine-cut void salts will consume two void salts from your ordinary void salt pile, so long as you have two that can be consumed, allowing you to keep the fine-cut void salts. Doing this reveals all four effects of the void salts.