Skyrim:Elytra Ichor
The UESPWiki – Your source for The Elder Scrolls since 1995
Elytra Ichor


FE

xxx

828

Added by
Rare Curios
30
0.1
Alchemy Effects
1st
 Restore Magicka (1.2×,1.22×)
2nd
 Invisibility (1.5×,1.56×)
3rd
 Slow (2×,2.14×)
4th
 Fear (2×,2.14×)
Elytra Ichor is an ingredient added by the Rare Curios Creation. It can be purchased from Khajiit caravans. This ingredient is also dropped by elytra in the Solitude Sewers with the Saints & Seducers Creation installed.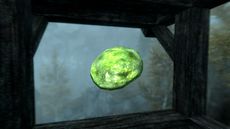 Combinations
[
edit
]
4 Effects
[
edit
]
2 Effects
[
edit
]
1 Effect
[
edit
]
| Desired Effect | Combine with: |
| --- | --- |
|  Restore Magicka | Briar Heart, ComberryCC (1.2×,1.22×), Congealed PutrescenceCC (1.2×,1.22×), Creep Cluster, Dwarven Oil, Ectoplasm, Elves Ear, Fire Salts, Frost Salts, Fungus StalkCC (1.2×,1.22×), Giant Lichen, Grass Pod, Human Flesh, LichorCC (1.2×,1.22×), Moon Sugar, Mora Tapinella, Pearl, Red Mountain Flower, Steel-Blue EntolomaCC, Taproot, White Cap, Wild Grass PodCC, Withering MoonCC (1.2×,1.22×) |
|  Invisibility | Ash Creep ClusterDB, Bittergreen PetalsCC (1.5×,1.56×), Chaurus Eggs, Crimson Nirnroot, Daedra SilkCC (1.5×,1.56×), Flame StalkCC (1.5×,1.56×), Ice Wraith Teeth, Luna Moth Wing, Nirnroot, Redwort FlowerCC (1.5×,1.56×), Screaming MawCC (4×,4.6×) |
|  Slow | Bungler's BaneCC (2×,2.14×), Burnt Spriggan WoodDB, Deathbell, Kresh FiberCC (2×,2.14×), Large Antlers (6×, 1.75×), River Betty, Salt Pile, Trama RootDB, Worm's Head CapCC (2×,2.14×) |
|  Fear | Blue Dartwing, Cyrodilic Spadetail, Daedra Heart, GleamblossomDG, Luminous RussulaCC (2×,2.14×), Namira's Rot, Netch JellyDB, Powdered Mammoth Tusk, Sload SoapCC (2×,2.14×) |
Elytra Ichor has the same alchemical properties as green butterfly wings, but with different multipliers. Combining these two ingredients will therefore result in all four effects being discovered at once.
Elytra Ichor previously appeared in the Shivering Isles expansion for Oblivion.