Skyrim:Forgotten Seasons
The UESPWiki – Your source for The Elder Scrolls since 1995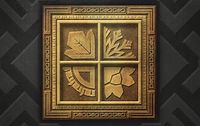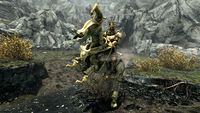 Forgotten Seasons is a Creation that adds Runoff Caverns, a large Dwemer ruin full of puzzles. It was released on December 6, 2018 for 1200 CC Credits.
The ruins feature sections themed after the four seasons: Spring's Symphony, Winter's Chimes, Summer's Chords and Autumn's Bells. Within Vardnknd are powerful artifacts, such as a Dwarven horse (also called a vamidium), an arcane crown, a Dwarven drone fly and others whose enchantments are based on the seasons.
This Creation was primarily made by Trainwiz, the author of many Skyrim quest mods. Other contributors include PrivateEye, Elianora, fadingsignal and Kris Takahashi.
Official Summary
[
edit
]
Creation Club

Forgotten Seasons offers a brand new dungeon adventure featuring work from a number of creators. In addition to its spacious exploration, the creation provides a myriad of unique rewards including a new mount, armor, items, and perks, many of which feature custom art assets and designs. Created by Trainwiz. Dwarven Crown by PrivateEye. Additional art support by Elianora. Additional art support by Rob Vogel "fadingsignal". Additional design by Kris Takahashi. (Search for the Runoff Caverns west of Lost Valley Redoubt.)
Sneak Peek - Nov 2018

Forgotten Seasons is a brand new dungeon adventure for The Elder Scrolls: Skyrim Special Edition. With grand halls to explore, dangerous automatons to battle, and unique rewards to discover, this offers a full dungeon experience replete with stunning visuals and callbacks to previous lore. Sharp-eyed adventurers can leave with ancient Dwarven treasures, including assembling a powerful crown and new mount.
Overview
[
edit
]
This Creation adds a large new dungeon named Runoff Caverns, located in the Reach. Within, you will find the extensive Dwemer ruins of Vardnknd, filled with all manner of enemies. Vardnknd is a mechanics-heavy dungeon themed after the four seasons, and you will be required to travel through its entirety in order to shut down a malfunctioning Dwemer weather machine.
Forgotten Seasons is one of the largest Creations to date and contains a significant amount of new content, including new items, books, powers, and enemy types. It features a total of three quests, which will require a good deal of exploration in order to complete. The rewards for doing so include a new mount, a robotic Dwemer horse as previously seen in ESO.
Content
[
edit
]
Books
Creatures
Places
NPCs
Quests
Spells
Despite the other three seasons receiving one, there is no Dwarven Summer Visage.
The four Karstangz items listed above are unobtainable.
Multiples of each of the six wheat variants within the Autumn's Bells zone can be collected and kept.
Sometimes the Dwarven Crown will not spawn on Elberon's body. The only known fix is to spawn it in with console commands
Gallery
[
edit
]