Skyrim:Dawnstar Sanctuary
The UESPWiki – Your source for The Elder Scrolls since 1995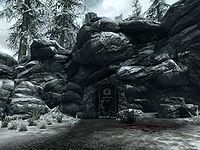 Dawnstar Sanctuary is a disused Dark Brotherhood sanctuary located on the shore of the Sea of Ghosts near Dawnstar.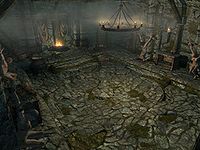 It was one of the first Dark Brotherhood sanctuaries in Skyrim, but it has been abandoned for nearly a hundred years. It contains only one interior zone, Dawnstar Sanctuary.
Residents
[
edit
]
† They move here at the end of Hail Sithis!
‡ They move here at the beginning of Where You Hang Your Enemy's Head..., once you have exited the sanctuary.
*If he survived The Cure for Madness.
**After purchasing the torture chamber upgrade during Where You Hang Your Enemy's Head....
Related Quests
[
edit
]
Dawnstar Sanctuary
[
edit
]
You are unable to enter the sanctuary without reading Cicero's Journal first. If you activate the black door, you will be given three dialogue options to try, but none of them are correct.
Once you have completed Hail Sithis!, speaking to Thoring at the Windpeak inn and asking about rumors will prompt him to comment: "Did you hear? People have been seen coming in and out of the Black Door. Divines have mercy."
The shrouded robes on the shelf and the cowl, gloves and boots are wearable and not to be confused with the worn items that are bugged.
All cupboards, end tables, and wardrobes in the location are non-respawning and safe to store items in.
Unlike the Falkreath Sanctuary, followers can enter.
It is possible for you to witness a courier appearing to deliver a letter immediately upon exiting via the main door, who after delivering your mail, turns and enters the sanctuary. They are not appearing inside, nor back in Dawnstar.
When you first enter the sanctuary after speaking with the door, the game will not autosave.
At the Black Door, the correct phrase sometimes will not appear in the options even after reading Cicero's journal. Loading a previous save should fix this.
In the master bedroom area of the Sanctuary, jumping onto the corner between the platform and central stairs can cause you to fall through the floor and fall into the ice caves blocked off after the Sanctuary is reclaimed. You can escape this area by walking the way you need to go for The Cure for Madness.
The large weapons rack in the main hall below the bridge cannot be used to store player weapons.
The un-equippable Worn Shrouded Cowl, Gloves and Boots that appear in the master bedroom will not appear in your inventory after you pick them up, leaving you permanently stuck with 6 useless carry units
The un-equippable Worn Shrouded Cowl may be missing from the room. ?
Dark Brotherhood members do not sleep due to not having proper sleep schedules.