Skyrim:Hlaalu Farm
The UESPWiki – Your source for The Elder Scrolls since 1995
This article is being developed as part of the Skyrim Houses Redesign Project. If you see this tag it means the article can still be improved. Please see the project page for guidelines.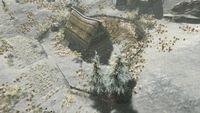 Hlaalu Farm is a small farm east of Windhelm.
This farm is owned by Belyn Hlaalu who lives in Windhelm, but is worked by Adisla, a Nord woman who lives in the single room farmhouse on the property.
Residents
[
edit
]
Related Quests
[
edit
]
Walkthrough
[
edit
]
Exterior
[
edit
]
As you approach the property there are several blue mountain flowers and a snowberry bush. Only six bushels of wheat are grown, however the farm also supports two goats and three chickens. Behind the house, there is a chicken coop, with a wood chopping block, a tanning rack, and a grindstone.
| Crops | Plants | Animals | Other |
| --- | --- | --- | --- |
| 6 Wheat | | | |
Hlaalu Farm
[
edit
]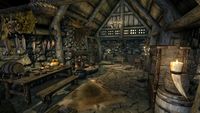 Upon entering the farmhouse, there is a cupboard against the northwest wall holding a potion of minor healing, a potion of true shot, an iron sword, a gourd, three leeks, three bulbs of garlic, and two mammoth cheese bowls. There is a flower basket containing four chicken's eggs on the floor to the left of the cupboard, with a food barrel and basket containing a selection of red and green apples to the right. Against the northeast wall is an unlocked chest containing minor loot beside a pile of firewood, and hanging above from the ceiling are two garlic braids, a bunch of dried elves ear, and a bunch of dried frost mirriam. Opposite the cupboard, against the southeast wall are a long wooden table and bench. On the table are two chicken's eggs, two potatoes, a baked potato, a portion of grilled leeks, several loaves of bread, a salmon steak, a seared slaughterfish, a bottle of alto wine, and several pieces of cheese. Hanging from a rack above the table are four rabbits, two pheasants, and two salmon.
To the right of the table, opposite the entrance is a fireplace with a cooking pot in front and a bowl of troll fat and three iron daggers on the mantelpiece. To the right on a small pile of firewood is a woodcutter's axe, and to the right of that is another cupboard holding mainly clutter along with copies of The Windhelm Letters, Walking the World, Vol XI ,The Holds of Skyrim, Of Crossed Daggers, and The City of Stone. Hanging above this cupboard are three more bunches of dried elves ear and two more bunches of dried frost mirriam. Coming out from the middle of the southwest wall is an unowned single bed with an end table to the left which holds a bottle of alto wine and a bottle of wine. To the right of the bed is a dresser containing clothes, with a steel mace on top. To the right of the dresser against the northeast wall are another unlocked chest and a round wooden table and two chairs, with a bottle of alto wine, a bottle of wine, and a loaf of bread on top.