Skyrim:Heartwood Mill
The UESPWiki – Your source for The Elder Scrolls since 1995
This article is being developed as part of the Skyrim Houses Redesign Project. If you see this tag it means the article can still be improved. Please see the project page for guidelines.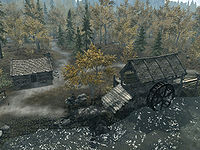 Heartwood Mill is a struggling lumber mill on the shores of Lake Honrich, west of Goldenglow Estate.
The mill is run by Grosta and her husband Leifnarr, although Leifnarr has disappeared leaving her to run it by herself. She lives here with her young son Gralnach who helps as much as he is able.
Residents
[
edit
]
Related Quests
[
edit
]
Exterior
[
edit
]
A Rift Guard patrols into the mill and towards the bridge keeping them safe. There is a chicken coop with two nests outside of the house, a bird's nest containing a pine thrush egg and many mountain flowers that can be found in the immediate area. Between the house and saw mill is a grindstone and tanning rack. With the Fishing creation, some Fishing Supplies and a bucket containing a Fishing Rod, a Blue Dartwing, and three Orange Dartwings can be found here. Fish from Temperate Lakes can be caught here.
Heartwood Mill
[
edit
]
It is a small single story house consisting of a main living room and a single bedroom. Entrance leads straight into the living area with a set of shelves to the left, against the east wall holding a potion of minor healing, a potion of minor stamina, two boiled creme treats, a sweet roll, several potatoes, two green and two red apple, two cabbages, three loaves of bread and several pieces of cheese. In the southeastern corner is a food barrel, a dresser containing clothes is to the right, along the south wall, with a bunch of lavender on top. A small square wooden table with two chairs in the southwestern corner holds a bottle of wine, a salmon steak, a loaf of bread and an eidar cheese wedge. Under the table is a chicken's egg. Against the west wall is a cooking pot on a stand, with a wall shelf to the right holding clutter. Hanging from the ceiling are two garlic braids, two bunches of elves ear and two bunches of frost mirriam. The door to the bedroom is on the north wall.
The bedroom contains two single owned beds, one in the southeastern corner and the other in the northwestern corner. There is an unlocked wooden chest to the left of the first bed and a medium coin purse on the floor between them. To the right of the second bed is a food barrel with a copy of Herbane's Bestiary: Hagravens. Against the north wall is a fireplace.
You can buy sawn logsHF here after installing Hearthfire by speaking to Grosta. You can also cut your own for free if she has given permission to do so.