Skyrim:Ironback Hideout
The UESPWiki – Your source for The Elder Scrolls since 1995
This article is being developed as part of the Skyrim Houses Redesign Project. If you see this tag it means the article can still be improved. Please see the project page for guidelines.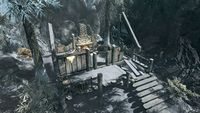 Ironback Hideout is a dilapidated house to the northwest of Solitude, a short distance east of The Steed Stone. It is the remains of a house without a roof, windows, or doors. Two bandits and a bandit chief have set up camp within the ruined structure.
It can be reached by following the road towards the Thalmor Embassy until you are east of the house and then turning west. Any other route takes a difficult climb over and around cliffs.
The Elite Crossbows Creation adds a trapdoor beneath a tent, leading to Ironback Hideout Cellar. This entrance is initially locked and must be entered as part of the related quest.
Related Quests
[
edit
]
Ironback Hideout
[
edit
]
What remains of the house are some of the walls, the fireplace, and floor. There is a broken front porch with a wood chopping block at the end, next to a doorway into the shell. Two tents have been erected inside, one of which contains a medium coin purse. The fireplace is opposite the doorway and is lit, with an empty pot in front of it. With the Elite Crossbows Creation installed, Kragrash's Letter can be found atop the mantel. There is a bandit and a bandit chief sitting on a wooden block and crate pulled up in front of the fire. To the right of the fireplace is a long wooden table with an empty metal pot, a portion of grilled leeks, a baked potato, and a copy of the Pickpocket skill book Beggar on the table, and a novice-locked chest underneath. To the left of the fireplace is a tanning rack and a missing section of wall that leads to where one of the bandits is on lookout duty on a ledge and also a corundum ore vein against the cliff face.
A second corundum ore vein can be found under the house at the base of the cliff.
It may only become labeled as "cleared" after leaving the area.