Skyrim:Froki's Shack
The UESPWiki – Your source for The Elder Scrolls since 1995
This article is being developed as part of the Skyrim Houses Redesign Project. If you see this tag it means the article can still be improved. Please see the project page for guidelines.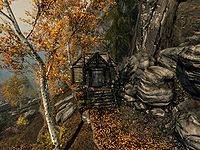 Froki's Shack is an isolated hunter's shack nestled in the southern mountains of the Rift.
The Nord hunter Froki Whetted-Blade lives here with his grandson Haming, a survivor of Helgen. He is a follower of the old ways and a devout worshipper of Kyne. Froki will guide you through the Sacred Trials of Kyne if you allow him. It consists of one area, Froki's Shack.
Residents
[
edit
]
Related Quests
[
edit
]
Exterior
[
edit
]
To the left of the entrance is a basket containing a leather strip, two loose iron arrows, and a quiver of the same, with a woodcutter's axe nearby. To the right of the door is a cooking pot. In the cliff below the shack, there is an orichalcum ore vein with a diamond visible and collectible on the surface of the vein. There is a pickaxe on the ground beside the vein. There are a purple mountain flower and gourd growing near the wood chopping block.
A shrine of Talos can be found outside of the hut farther south in the mountains, surrounded by steel cuffed boots, an Imperial light shield, a copy of the Two-handed skill book King, a copy of The Amulet of Kings, a satchel, five loose gold coins, a large coin purse, a bottle of alto wine, a heavy Imperial helmet, and an Imperial sword. There are two snowberry bushes on the way from Froki's shack to the shrine.
Froki's Shack
[
edit
]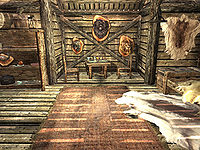 Upon entering, you will find a steel battleaxe to the left of the door. There is a tanning rack on your left, with a large shelving unit next to it. On the shelves are a woodcutter's axe, an eye of sabre cat, a pine thrush egg, a plate, a copy of the Archery skill book Vernaccus and Bourlor, a nirnroot, and an orange dartwing. Opposite the door are a small table and two chairs; on the table are a cup, two plates, a luna moth wing, and a butterfly wing. Against the southeast wall are a single bed and an unlocked chest containing minor loot.
On the wood chopping block outside to the north-northwest of the hut, you can find a Diadem of the Savant, which respawns. It is possible this was a mistake, as the Creation Kit specified that the diadem was meant to be a reward for completing Shalidor's Maze, and not appear anywhere else.