Skyrim:Juniper Berries
The UESPWiki – Your source for The Elder Scrolls since 1995
Juniper Berries
00

05076e

1
0.1
Alchemy Effects
1st
 Weakness to Fire
2nd
 Fortify Marksman
3rd
 Regenerate Health
4th
 Damage Stamina Regen
Sources
# Samples
43
Plant
Juniper
# Plants
1030
Garden HF
4
Merchant Avail.
Common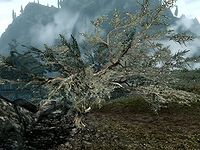 Juniper Berries are small white berries harvested from juniper, which is a small tree found growing in the Reach.
Although the player cannot use juniper berries in cooking, they are used in baking the juniper berry crostataHF. NPCs mention uses such as mixing berries into mead to add extra flavor. As a result, juniper berries are also categorized as raw food, meaning they can be sold to innkeepers as well as apothecary merchants.
Combinations
[
edit
]
1 Effect
[
edit
]
| Desired Effect | Combine with: |
| --- | --- |
|  Weakness to Fire | Bleeding Crown, Burnt Spriggan WoodDB, Frost Salts, Ice Wraith Teeth, Moon Sugar, Powdered Mammoth Tusk |
|  Fortify Marksman | Canis Root, Elves Ear, Spider Egg |
|  Regenerate Health | Alocasia FruitCC, AmbrosiaCC, Emperor Parasol MossDB, Garlic, GleamblossomDG, Gnarl BarkCC, Luna Moth Wing, Minotaur HornCC, Namira's Rot, Nordic Barnacle, Ogre's TeethCC, Vampire Dust, Void EssenceCC |
|  Damage Stamina Regen | Creep Cluster, Daedra Heart, Frost Mirriam, Giant's Toe, Histcarp, Large Antlers, Silverside Perch, Skeever Tail, Wheat, Yellow Mountain FlowerDG |
Ingredients
[
edit
]
43 guaranteed samples can be found in 27 different locations. Locations with multiple samples are:
It is categorized as a common ingredient, meaning that all apothecary merchants have a 36% chance of carrying 1-5 samples. In addition, it may be randomly found in some barrels and in apothecary's satchels.
1030 juniper plants can be found in 63 different locations. Locations with the greatest numbers are:
Related Quests
[
edit
]