Skyrim:Baking
The UESPWiki – Your source for The Elder Scrolls since 1995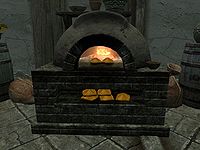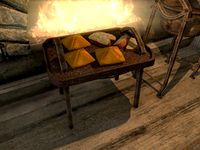 Baking can only be done at the oven in your player-built kitchen. Specific recipes must be followed, which specify the raw foods that must be combined.
Baking allows you to combine raw food and ingredients to create finished dishes. Baked food provides more substantial benefits than raw food. All of the recipes listed below are available at the beginning of the game even if their associated ingredients are not. For recipe information related to cooking, see this page.
Several Creations also add pre-built baking locations. A baking surface can be found in Tundra HomesteadCC and an oven in MyrwatchCC, Shadowfoot SanctumCC, Bloodchill CavernCC, NchuanthumzCC and HendraheimCC.
Recipes
[
edit
]
Used (Raw Food)
Created (Baked Food)
Delta
Delta
Sack of FlourHF × 1
0.5
1
Apple DumplingHF × 1

Restore Health, 5 pts
Fortify Archery 5 pts for 60 secs

0.1
3
-0.6
-4
Green Apple × 1
0.1
3
Red Apple × 1
0.1
3
Salt Pile × 1
0.2
2
Apple Pie × 1
0.5
5
-1.4
-7
Sack of FlourHF × 1
0.5
1
ButterHF × 1
0.1
1
Chicken's Egg × 1
0.5
2
Green Apple × 2
0.1
3
Red Apple × 2
0.1
3
Salt Pile × 1
0.2
2
Braided BreadHF × 1

Restore Health 2 pts
Fortify Carry Weight 5 pts for 30 secs

0.2
2
-0.5
-1
Sack of FlourHF × 1
0.5
1




Salt Pile × 1
0.2
2
Bread × 1
0.2
2
-2
-5
Jug of MilkHF × 1
1
2
Sack of FlourHF × 1
0.5
1
Chicken's Egg × 1
0.5
2
Salt Pile × 1
0.2
2
Chicken DumplingHF × 1

Restore Health 15 pts
Restore Health 1 pt for 120 secs

0.1
3
-0.85
-6
Sack of FlourHF × 1
0.5
1
Chicken Breast × 1
0.2
3
Garlic × 1
0.25
1
Leek × 1
0.1
1
Garlic × 1
0.25
1
Garlic BreadHF × 2

Restore Health 1 pt
Cure Disease

0.1
2
-0.45
-2
ButterHF × 1
0.1
1
Bread × 1
0.2
2
ButterHF × 1
0.1
1
Jazbay CrostataHF × 1

Restore Health 10 pts
Fortify Magicka 4 pts for 60 secs

0.2
5
-0.8
1
Jazbay Grapes × 2
0.2
1
Sack of FlourHF × 1
0.5
1
ButterHF × 1
0.1
1
Juniper Berry CrostataHF × 1

Restore Health 4 pts
Restore Health 2 pts for 60 secs

0.2
5
-0.7
0
Juniper Berries × 3
0.1
1
Sack of FlourHF × 1
0.5
1
Moon Sugar × 1
0.25
50
Lavender DumplingHF × 1

Restore Health 5 pts
Fortify Magicka 10 pts for 60 secs
Resist Magic 10 pts for 60 secs

0.1
3
-0.95
-57
Sack of FlourHF × 1
0.5
1
Snowberries × 2
0.1
4
Lavender × 1
0.1
1
Salt Pile × 1
0.2
2
Potato BreadHF × 1
0.2
2
-2.3
-8
Jug of MilkHF × 1
1
2
Sack of FlourHF × 1
0.5
1
Potato × 1
0.1
1
Chicken's Egg × 1
0.5
2
ButterHF × 1
0.1
1
Snowberry CrostataHF × 1

Restore Health 10 pts
Resist Fire 4 pts for 60 secs

0.2
5
-0.6
-5
Snowberries × 2
0.1
4
Sack of FlourHF × 1
0.5
1
Salt Pile × 1
0.2
2
Sweet Roll × 1
0.2
2
-2.1
-6
Jug of MilkHF × 1
1
2
Sack of FlourHF × 1
0.5
1
ButterHF × 1
0.1
1
Chicken's Egg × 1
0.5
2