Skyrim:Ash Creep Cluster
The UESPWiki – Your source for The Elder Scrolls since 1995
Ash Creep Cluster


xx

01cd74

20
0.25
Alchemy Effects
1st
 Damage Stamina
2nd
 Invisibility
3rd
 Resist Fire
4th
 Fortify Destruction
Sources
# Samples
2
Plant
Creep Cluster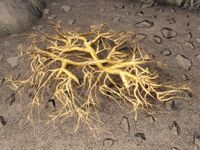 Ash Creep Cluster is an ingredient harvested from creep cluster plants unique to Solstheim. The plant looks similar to the red-orange creep cluster found in mainland Skyrim, but this type has a yellow-tan color and different alchemical properties.
Guaranteed samples can be found in the following locations:
Combinations
[
edit
]
In terms of combinations of two ingredients, Ash Creep Cluster can be combined with 49 other ingredients.
2 Effects
[
edit
]
1 Effect
[
edit
]
| Desired Effect | Combine with: |
| --- | --- |
|  Damage Stamina | Ancestor Moth WingDG, Blisterwort, Blue Butterfly Wing, Bog BeaconCC (1.33×,1.36×), Canis Root, Chaurus Hunter AntennaeDG, Cyrodilic Spadetail, Giant's Toe, Jarrin Root, MarshmerrowCC (1.33×,1.36×), Rock Warbler Egg, Spider Egg |
|  Invisibility | Bittergreen PetalsCC (1.5×,1.56×), Blister Pod CapCC (1.5×,1.56×), Chaurus Eggs, Daedra SilkCC (1.5×,1.56×), Elytra IchorCC (1.5×,1.56×), Flame StalkCC (1.5×,1.56×), Green Butterfly WingCC, Ice Wraith Teeth, Luna Moth Wing, Redwort FlowerCC (1.5×,1.56×), Screaming MawCC (4×,4.6×), Vampire Dust |
|  Resist Fire | Ashen Grass PodDB (1.34×), Bliss Bug ThoraxCC, Dragon's Tongue, Elves Ear, Fire PetalCC (1.33×,1.36×), Fire Salts, Fly Amanita, Gnarl BarkCC (1.33×,1.36×), Mudcrab Chitin, Sload SoapCC (1.33×,1.36×), Snowberries, Spawn AshDB |
|  Fortify Destruction | Beehive Husk, Daedra VeninCC (1.2×,1.22×), Ectoplasm (0.8×), Glow Dust, Glowing Mushroom, Nightshade (0.8×), Steel-Blue EntolomaCC, Wisp Wrappings |