Lore:Sight
The UESPWiki – Your source for The Elder Scrolls since 1995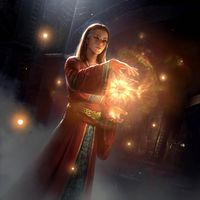 The Sight,[1][2] sometimes referred to as divination and scrying,[3][4] is the ability possessed by some individuals that allows them to divine information through visions and prophecy. Such users may be called Oracles, Seers, Farseers, Soothsayers[5][6], Prognosticators, or (parasynonymously) Prophets. The manner of visions attained by Sight vary. Such visions can include foretelling potential futures, seeing into other realms, revealing hidden things, finding lost places, and even communicating at a distance.[5][7]
A vision is not always simply a visual perception, conveying non-visual senses like sound, smell, touch, and temperature, as well as information decoupled from any of the senses.[6] However, visions are not absolute, and may provide an incomplete story, information that is subject to change, or wisdom that is often vague, abstract, and interpretive.[8][6] Using Sight can work better when the seer is feeling their best, and using their Sight can sap their energy for a time.[9] The clarity of such visions can imply an increase in its validity.[6]
While some are born with the Sight or a natural affinity for it, devotion to the gods can grant the Sight.[10][11] It is also suggested that lineage plays some factor in one's predisposition to be born with the Sight.[2] Most Alfiq are blessed with sight.[12] Some seers claim that their Sight manifests through dialogue with inanimate objects.[13] Others may receive visions involuntarily, which can be troubling. Seer's Stones are amulets known to help stifle one's oracular senses.[14] Azura's associations with mystery, fate, and prophecy[15] make her more connected to the Sight (which her followers call the gift of Crystal Vision) and mortal seers than most gods.[16] Azura believes that prophecy must occur, and guides her seers that can't always endure "knowledge of the truth".[17]
The ability to predict the future through examination of animal entrails was not an uncommon ability among Reachfolk Shamans of Namira,[18] and Breton Druids of Firesong Circle.[19] A similar ability, an ancient scrying technique that required usage of human entrails instead, was known as Visceromancy. It was practiced by the denizens of the Shivering Isles.[20][21]
Some Dragonborn are known to possess the gift of Sight. It was said that the dragon blood possessed by members of the Septim Dynasty allowed them to see more than lesser men.[22] Emperor Uriel Septim VII was troubled all his life by dreams that showed him visions of the future, including his assassination and the start of the Oblivion Crisis that followed.[23]
While the gods[24] and Elder Scrolls[25] are known to grant prophecies, this does not necessarily confer the power of Sight. However, such individuals are still referred to as Prophets.
Notable Seers
[
edit
]
Gallery
[
edit
]
The Drake of Blades, her eyes whitened by Akatosh's blessing of a second sight (ESO)
References
[
edit
]