Lore: Alchemy
The UESPWiki – Your source for The Elder Scrolls since 1995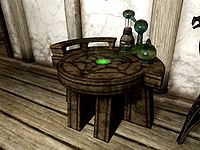 The Alchemy section is a listing of all alchemical ingredients found in the world of Tamriel. Each entry in this index provides a quick reference to the effects and appearance of ingredients in the games.
For more information about the flora and fauna that most ingredients originate from, see their respective indices.
Alchemy
[
edit
]
Alchemy is the act of mixing, boiling, and distilling various substances to obtain their chemo-magical properties and create potions and poisons. Potions are usually imbibed orally and usually grant the imbiber with positive effects. Poisons are introduced into the target's bloodstream by pouring it onto a weapon and attacking the target with it and usually gives the target negative effects.
Alchemical ingredients include extracts from plants, animals, undead, and Daedra. Certain ingredients are very valuable to alchemists due to their rarity, many of which are extracts from Daedric creatures. Prospective alchemists often need to experiment with ingredients to gauge what effects can be created, usually by eating samples of ingredients. This practice is referred to as wortcraft.
Stationary alchemical stations are often used for the preparation of potions. In the Iliac Bay, they were often utilized by the temple clergy and the elusive Dark Brotherhood as a service to their members. In Skyrim, such stations were not only used by apothecaries but also installed by court wizards and even some taverns. Some landowners may also have an alchemy laboratory in their own homes.
In contrast, within Cyrodiil and Morrowind it was far more common for smaller travel apparatus to be used by alchemists. These portable laboratories had four components:
Mortar and Pestle: used for grinding the ingredients together into a paste to be boiled, required for potion brewing
Retort: used for distilling the brew, increases the magnitude of the potion's positive effects, optional for potion brewing.
Calcinator: used to increase all effects of the brew, both positive and negative, optional for potion brewing.
Alembic: also distills the brew, used to decrease its negative effects, optional for potion brewing
Alchemy was formulated into an art and science by Asliel Direnni.[1]
Gallery
[
edit
]
Alchemy in the Games
[
edit
]
Main Series
[
edit
]
Spin-Offs
[
edit
]
See Also
[
edit
]
References
[
edit
]