Daggerfall:Potion Maker
The UESPWiki – Your source for The Elder Scrolls since 1995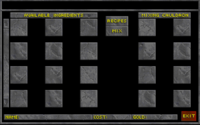 The Potion Maker is a special service that can be found at most Temples (except the School of Julianos and the Temple of Kynareth) as well as within the Dark Brotherhood. It is a free service for members of the appropriate rank. A potion can be made in one of two ways:
Mixing ingredients manually: Every ingredient in your inventory, wagon included, will be shown in the field "Available Ingredients". If you have many ingredients, it may be necessary to scroll through the inventory using the scroll bar on the left side. Just put the ingredients you want to mix in the cauldron, and if the mixture results in an usable potion its name will be displayed in the field "Name". Click the "Mix" button to create a bottle filled with the potion. The name of a potion is actually the name of its magical effect; this name cannot be changed.
Using recipes: Recipes can sometimes be found on fallen enemies or they can be bought at Alchemists, although this is very rare. They provide a more straightforward way to create a potion. If you have a recipe in your inventory, you only need to select it from the menu by clicking the "Recipes" button. The required ingredients will be put into the cauldron automatically, provided you have them in your inventory. Click the "Mix" button to create the potion. A recipe can be used as often as you want, but they have no actual value, hence they can not be sold (even if you have more than one recipe for the same potion).
It is only possible to create single-effect potions; no potions with combined effects can be created. Potions cannot be sold to any vendor in the game.