Daggerfall:Training
The UESPWiki – Your source for The Elder Scrolls since 1995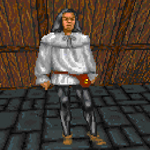 Training services are offered by most joinable factions in Daggerfall. They allow you to increase your proficiency in a particular skill outside of normal use, up to a maximum proficiency of 51%. A single session is roughly equal to 15 uses of the skill being trained.
A training session lasts for three hours and consumes 30 fatigue points. If you have less than 31 fatigue points you will drop to the floor from exhaustion upon completing the session, and awaken one hour later. You can only train once every twelve hours, regardless of which trainer you ask. That is, after finishing a session, you must wait an additional nine hours before you are able to receive another.
The costs for a training session are 100 gold x player's current level. Training is normally only available to members of a particular faction. The exceptions to this rule are the Temples, who will train non-members. However, in this case the costs per session are 400 gold x player's current level.
Skill Trainers
[
edit
]
The following table lists each skill and which guild or faction offers training for it.
| Skill | Guilds Where Skill can be Trained |
| --- | --- |
| Alteration | Mages, Akatosh, Julianos |
| Archery | Fighters, Kynareth, Mara, Akatosh, Dark Brotherhood |
| Axe | Fighters, Arkay, Stendarr |
| Backstabbing | Arkay, Thieves, Dark Brotherhood |
| Blunt Weapon | Fighters, Stendarr, Thieves, Zenithar |
| Centaurian | Zenithar |
| Climbing | Kynareth, Arkay, Thieves, Dark Brotherhood |
| Critical Strike | Stendarr, Fighters, Mara, Arkay, Dark Brotherhood, Julianos |
| Daedric | Dibella, Mages, Kynareth, Stendarr, Akatosh, Mara, Dark Brotherhood, Zenithar, Julianos |
| Destruction | Kynareth, Mages, Akatosh, Arkay, Dark Brotherhood |
| Dodging | Kynareth, Stendarr, Thieves, Dark Brotherhood |
| Dragonish | Akatosh, Mages, Kynareth |
| Etiquette | Dibella, Mara, Zenithar |
| Giantish | Fighters, Zenithar |
| Hand-to-Hand | (none) |
| Harpy | Dibella, Mages, Mara, Kynareth, Zenithar |
| Illusion | Kynareth, Mages, Dibella, Mara |
| Impish | Mages, Julianos |
| Jumping | Fighters, Thieves |
| Lockpicking | Dibella, Thieves, Julianos |
| Long Blade | Dibella, Akatosh, Fighters |
| Medical | Arkay, Mara, Stendarr |
| Mercantile | Zenithar, Julianos |
| Mysticism | Mages, Julianos |
| Nymph | Dibella, Mara |
| Orcish | Stendarr, Dibella, Fighters, Mages, Zenithar |
| Pickpocket | Thieves, Zenithar |
| Restoration | Dibella, Mages, Stendarr, Arkay, Mara |
| Running | Akatosh, Fighters, Kynareth, Dark Brotherhood |
| Short Blade | Fighters, Arkay, Thieves, Dark Brotherhood, Julianos |
| Spriggan | Stendarr, Mages, Zenithar |
| Stealth | Kynareth, Akatosh, Thieves, Dark Brotherhood |
| Streetwise | Dibella, Mara, Thieves, Dark Brotherhood, Zenithar |
| Swimming | Fighters, Akatosh, Thieves, Dark Brotherhood |
| Thaumaturgy | Mages, Zenithar, Julianos |