Lore:Flesh Sculpture
The UESPWiki – Your source for The Elder Scrolls since 1995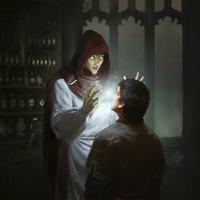 Flesh Sculpture is a style of magic based around the manipulation of flesh of living beings, be it for healing or for cosmetic purposes such as changing one's face.[1][2]
Whilst seemingly obscure, flesh sculpting isn't something reserved to the underworld of Tamriel. Legend speaks of the Wailing Wheels of Vindasel, where the Ayleids derived strange pleasure by subjecting slaves to the "art-torture" of using their skin for flesh sculptures.[3][4] Cloudrest contains a Faculty of Chirurgeons where masters of flesh sculpture teach their art. Nohotogrha, an oasis found in Hammerfell, is also home to flesh sculptors known as the Hollow-Faced Men. One known practitioner of this art, Galathil, claims to have learned her art in both of these places circa 4E 201.[1] According to Galathil, flesh sculpting cannot be used on the dead, which includes those afflicted with vampirism.[1] Despite its magical nature, changing one's appearance requires conventional surgical tools such as knives.[1]
Circa 2E 582, some necromancers used flesh sculpting as a means of healing themselves and others.[2]
See Also
[
edit
]
References
[
edit
]
^ a b Necromancer Flesh Sculptor build in ESO
^ Dialogue between Ayleid Nobles