Lore:Spinners
The UESPWiki – Your source for The Elder Scrolls since 1995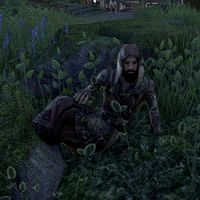 The Spinners are Bosmeri priests and historians, who record the story of their people—past, present, and even future.[1] Principally associated with Y'ffre, Storyteller and chief god in the Bosmeri pantheon, Spinners may serve other gods in their quest for historical knowledge.[2] They seek to maintain all Bosmeri history, culture, and laws, usually in the form of stories or metaphors, which can be difficult to comprehend but always ultimately correct.[3] Thus, they serve as highly-influential advisors and bards, as well as helping to enforce Y'ffre's Green Pact.[4] The most talented among them can utterly ensnare listeners within their story as a potent illusion, casting them as a character within the tale and thus influencing their emotions.[5] It is said that Spinners travel nowhere except when carried by others, never moving under their own power.[6]
Spinners believe that Y'ffre sings through them as they tell their stories. Their tales are believed to be "echoes and echoes of songs He once sang, of threads woven by his throat into tapestries ingrained in the minds of [the] faithful", and are spun in terms of "whens" rather than "whats". This "Now" of the songs that fill the Spinners considers the seas and skies of Mundus and Aetherius.[7]
Spinners is the local term for priests of Y'ffre in Valenwood. In High Rock, they are called Vicars of Jephre.[8]
References
[
edit
]