Online:Patch/2.5.1
The UESPWiki – Your source for The Elder Scrolls since 1995
Released on July 04 2016.
The Elder Scrolls Online v2.5.1 is our first incremental patch on the PTS for Update 11 and the Shadows of the Hist DLC game pack. It addresses a number of issues with the new content and systems as well as introducing three new features that were missing in the initial PTS launch. This incremental patch also includes some fixes in the base game patch for quests, itemization, crafting, and more. We've also updated the existing character templates to include the six new dungeon item sets, two new Monster Mask sets (Velidreth and Haj Mota), and updated Trials and Dragonstar Arena item sets and Master Weapons.The size of this patch is approximately 640MB.
Thanks to everyone for your feedback and bug reports so far! We've been reading your forum threads and posts, and look forward to seeing what you think of this latest patch and the new features!
New Features / Updates / Big Changes
[
edit
]
Base Game Patch
[
edit
]
Trade Bind-on-Pickup Items to Group Members
Equipment looted while in a group can now be traded to active group members for two hours after being looted.
Group members must have been present when the items dropped, and in the instance (if applicable), in order for trading to be an option.
Items that can be traded will have modified tooltips indicating how long they can be traded for, as well as to whom.
Not all items that are bind-on-pickup can be traded. Monster Shoulders, since they drop from Undaunted chests for example, are not tradeable by design. (Monster Helms, since they drop from Veteran Dungeon final bosses, on the other hand, are.)
This system is not exclusive to Dungeons and Trials—the system is universal, but most of our bind-on-pickup items that are tradeable do drop in Dungeons and Trials.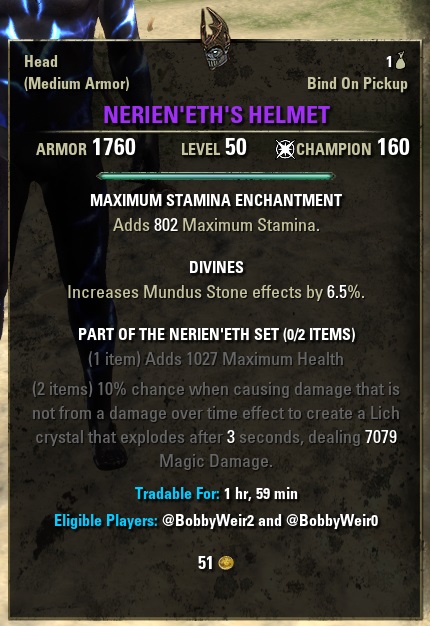 Dye Stamps (Crown Store)
[
edit
]
You will soon have the opportunity to purchase consumable Dye Stamps from the Crown Store.
Each Dye Stamp comes preset with specific colors and color order—they can be applied to your Costumes and Hats, regardless of whether or not you have unlocked the associated dye colors via the Achievement System.
You can purchase multiple of the same Dye Stamp and store them in stacks in your bank for later use. You can preview the new look prior to purchase and prior to application of the Dye Stamp.
Dye Stamps will cycle out of availability regularly to introduce others.
(Note: Rare dyes unlocked from achievements are not available on dye stamps, however other colors, unavailable as Dyes, may be.)
Find the Crow Caller to Herald the Witches Festival!
[
edit
]
For a short time, players can petition a Witchmother for her boon! But does it come with a price?
Use the Crow Caller, an item available from the Crown Store, to start your quest and obtain the Witchmother's Cauldron! (The Crow Caller item will be free, just distributed in the Crown Store much like the Jubilee Cake Voucher.)
After obtaining and drinking from the Witchmother's Cauldron, bosses from delves, dungeons and all around the world will drop Plunder Skulls, containing various limited time items only obtainable during the event!
The Witches Festival event is not part of Update 11—it will go live around the same time as the Witches Festival, in October.
Shadows of the Hist Fixes & Improvements
[
edit
]
Crafting & Economy
[
edit
]
Harvesting
Heavy Sacks found in Cradle of Shadows and Ruins of Mazzatun now provide loot that is appropriately scaled to the passive rank of the associated tradeskill.
Dungeons & Group Content
[
edit
]
General
Cradle of Shadows: Corrected an issue where the Veteran mode Achievements "Shadowplay" and "Divided He Fell" could be completed in the dungeon's Normal mode.
Ruins of Mazzatun: Corrected an issue where the Veteran mode Achievement "Haj Mota Matador" could be completed in the dungeon's Normal mode.
Veteran Ruins of Mazzatun: Tree-Minder Na-Kesh now properly grants the Achievements "Blind Luck" and "Sticky Situation."
Some of the new Achievements for the Shadows of the Hist update have new names.
Quest markers for the Cradle of Shadows Undaunted Pledge will now properly display.
You can now enter Cradle of Shadows using the main entrance in Shadowfen regardless of your character's quest progression on the Stillrise Village objective.
Dranos:

Fixed an issue with Dranos' Essence Orbs that were resulting in being stuck in combat and blocking progression. The Essence Orbs will now correctly be removed when Dranos dies.

Velidreth:

Velidreth's Shadow Sense ability no longer displays a red area of effect. The green "safe" area is still present.
Velidreth's Shadow Spines will now properly animate when they retract into the ground.
Quest markers for the Ruins of Mazzatun Undaunted Pledge will now properly display.
Monsters casting Barrage of Stone will no longer immediately try to cast Barrage of Stone after recovering from a player character's crowd control effect.
Multiple monsters will no longer attempt to cast Barrage of Stone at the same time.
Reduced the duration of Barrage of Stone.
Monsters in the Ruins of Mazzatun will now properly obey "pack" mentality when deciding to attack players rather than all monsters attacking at once.
Haj Mota:

Reduced the number of Haj Mota which appear in the second wave of the ambush in this dungeon's Normal version.
Reduced the health for all Haj Mota in this dungeon.
Naheesh Dakeeto's name will now always be visible.

Xit-Xaht Root-Masons:

Xit-Xaht Root-Masons will now only use Stone Shield on allies. If no allies are nearby, they will use Stone Shield on themselves.
Reduced the damage done by Xit-Xaht Root-Masons' Stone Strike.
Increased the cast time of the Xit-Xaht Sludge-Slinger's Mad Hist's Mania ability.

Xit-Xaht Stoneshaper:

Xit-Xaht Stoneshaper's Heavy Bleeding ability will now properly disappear when the ability is removed.
Xit-Xaht Stoneshaper's Laceration effect is now properly removed when the Heavy Bleeding effect is removed.
Reduced the number of Xit-Xaht Stoneshapers which appear in the final wave of the Ambush encounter.

Reduced the damage done by Xit-Xaht Thunderscales in this dungeon's Normal version.
Zatsu The Spine-Breaker will no longer become susceptible to crowd control after casting Rumbling Smash.
Dark Brotherhood Fixes & Improvements
[
edit
]
Art & Animations
[
edit
]
Fixtures
Fixed the Castle Anvil door so you will now see it from a distance as you approach.
Combat & Gameplay
[
edit
]
Monster Abilities
Mass Paralysis: If you are killed while under the effects of Mass Paralysis, the Death Recap Window now correctly suggests a possible solution.
Exploration & Itemization
[
edit
]
General
Fixed an issue where changing zones as the Monk Disguise was expiring could cause a crash.
The Monk's Disguise obtained from the Shadowy Supplier will now be appropriately removed if the timer expires after you die.
Fixed an issue where un-equipping the Monk Disguise could cause a UI error in Gamepad Mode.
Thieves Guild Fixes & Improvements
[
edit
]
Exploration & Itemization
[
edit
]
Trials
Maw of Lorkhaj

We've updated the rewards for defeating Rakkhat in the Maw of Lorkhaj's Veteran (non-Hard) mode. Now, Rakkhat in Veteran mode will always drop a single gold-quality piece of jewelry. It will usually be from the Moondancer, Twilight Remedy, Roar of Alkosh, or Lunar Bastion sets; occasionally, it will be from the Worm's Raiment, Hircine's Veneer, or Ebon Armory sets.
Base Game Fixes & Improvements
[
edit
]
Alliance War
[
edit
]
General
Updated the Achievement Point value for the Grand Dragonknight Slayer Achievement so that it matches the point values of the equivalent Achievements for the other classes.
Art & Animations
[
edit
]
Animations
Made some minor adjustments to facial animations for Crown Store Personalities.
Figures
Fixed some clipping issues with various hairstyles and hoods/hats.
Fixed clipping and floating issues with some adornments.
Fixed a small missing texture on the Haj Mota Monster Mask.
Attached the loincloth piece on the Mazzatun set to the belt.
Argonian side horns on the lower jaw will no longer disappear when wearing a hat.
Werewolf Lord: Fixed a clipping issue with the robe and legs.
Fixtures
Fixed collision issues with various fixtures so that player characters no longer floats above them.
Combat & Gameplay
[
edit
]
Monster Abilities
Humanoids monsters will now display an interruptible telegraph when they're quaffing a potion.
Crafting & Economy
[
edit
]
General
Achievements referencing Trait research now properly refer to Decisive and Prosperous rather than Weighted and Exploration.
Alchemy
Potions of Protection and Vulnerability now state their correct duration.
Fixed an issue wherein damage-dealing poisons would at times incorrectly deal damage multiple times per tick.
Addressed a rarely occurring issue that could cause some potions to display the incorrect duration for their Breach effect.
Potions that contain more than one of Ravage Magicka, Ravage Stamina, Sustained Restore Health, or Creeping Ravage Health will now see those effects all apply properly when the potion is used. In the specific case of Sustained Restore Health and Creeping Ravage Health both being in the same potion, these two effects will cancel each other out.
New visual effects have been added to poisons that apply Ward, Uncertainty, Hindrance, Cowardice, Maim, Savagery, Fracture, and Resolve.
Harvesting
Removed an extraneous tooltip that could be seen in the world near some survey sites.
Survey Report Runestones now produce a Potency Rune in lieu of one of their previous two Essence Runes. Additionally, these Runestones have been renamed to avoid confusion related to calling them "dual" when they produce four (or more) runes.
Crown Store & ESO Plus
[
edit
]
Appearance/Name/Race Change
Changing your character's gender with an Appearance Change or Race Change Token will no longer result in the character appearing to be bald if they had a hair style collectable applied that was only usable by the character's original gender.
Fixed an issue where characters could retain the base Racial Passives of their character's previous race even after changing races with a Race Change Token.
Personality animations will now correctly play on the Character Select Screen after a player has used a Race Change or Appearance Change Token.
Costume Dyeing
Costume Dyeing will no longer appear in the upgrades section of the Collection system. ESO Plus members still have access to it, but there will be no icon for it in Collections.
Fixed an issue that could prevent some hats from being dyed more than one color.
Dungeons & Group Content
[
edit
]
Arenas
Dragonstar Arena

We've added Powered versions of The Master's Greatsword, Sword, Inferno Staff, and Restoration Staff to the pool of possible Master Weapons available in the Dragonstar Arena.
The Archer's Mind, Destruction Mastery, Footman's, and Healer's Habit sets now have shields in infused, Divines, Well-Fitted, Reinforced, and Sturdy now available from Dragonstar Arena drops. Before, they were only available in Infused.
Trials
Hel Ra Citadel

The Necromancer and Stygian item sets have been removed from the Champion 160 Hel Ra Citadel item set drop tables, and the Hide of the Werewolf has been added. The Necromancer and Stygian item sets will be reintroduced at Champion 160 at a later date.
Exploration & Itemization
[
edit
]
General
Crusty Sweetrolls and Crusty Bread found on tables in the world will now scale to any level.
Miscellaneous
[
edit
]
General
Fixed an issue that was causing Memento functionality to break if your Memento cooldown expired while on a load screen. (Note: While this fix will not retroactively remove any existing timers, we are working on a supplemental fix that will clear any remaining timers in a future patch.)
Loading screen tips that referred to the old Group Finder have been updated to reflect the new features and functionality.
Quests & Zones
[
edit
]
Main Quest
Soul Shriven in Coldharbour: If you ignore the Prophet upon returning to Tamriel and running around without turning in this quest, your quest pins will no longer try to direct you to Auridon, Glenumbra, or Stonefalls.
Auridon
Plague of Phaer: Fixed an issue with this quest where the guards could shove you into a post, resulting in your character becoming stuck.
General
Fixed an issue where lockboxes, Thieves Troves, and chests displayed an item name instead of the correct container name.
Japanese Game Client
Fixed an issue where the day character (日) associated with the guild creation date was being displayed as a blank square on the guild screen.
Known Issues
[
edit
]
New Features
[
edit
]
Trade Bind-on-Pickup Items in Dungeons & Trials to Group Members
Currently, traded bind-on-pickup items can be put in Guild Banks, Guild Stores and Mail. This is not intended, and will be fixed in the next PTS patch.
Witches Festival
Upon use, the Grim Harlequin style chapter items are not currently teaching the Grim Harlequin style.
Many delve bosses won't currently drop Plunder Skulls from with the Witches Festival buff.
Art & Animations
[
edit
]
Animations
The Heroic Personality does not currently have audio associated with it.
Figures
The Molag Kena Monster Mask is currently suppressing beards and whiskers.
Fixtures
Some of the assets (cocoons, flowers, etc.) in the Cradle of Shadow boss room are currently missing textures.
Combat & Gameplay
[
edit
]
Racial
Khajiit Skills

Nimble: Nimble Rank III has a minor typo (missing the word "by") in its description.
Crafting & Economy
[
edit
]
Alchemy
Spell Critical poisons currently use an incorrect visual effect on the target when procced.
Exploration & Itemization
[
edit
]
General
The Haj Mota's Monster Mask set items should be named "Mighty Chudan." Instead, they incorrectly display "Haj Mota" as the name.
General
The ESO Plus Benefits description is currently missing text in all supported languages.
The bind-on-pickup icon and tooltip info are not currently displaying in active trade windows.
Gamepad Mode
Unequipping the Monk Disguise while in Gamepad Mode will cause a UI error.