Online:Maw of Lorkhaj
The UESPWiki – Your source for The Elder Scrolls since 1995
Trial
Discoverable
Yes
Completion
Objective
Dungeon
Yes
# of Zones
1
Zone
Jodewood, Reaper's March
Location
South of Do'Krin Monastery
Instanced Dungeon
Group Size
12
Loading Screen

An ancient Khajiiti shrine called the "Temple of Seven Riddles" has been overrun by the Khajiit's eternal enemy, the dro-m'Athra. With each passing hour, more Lost Cats pour into Nirn through a gaping rift between worlds. If Tamriel is to be saved, this Maw of Lorkhaj must be closed.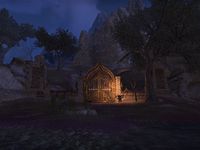 The Maw of Lorkhaj is a desecrated temple in Reaper's March. It has both a Normal and Veteran mode.
Just outside the entrance to the temple is a small hub with two merchants, crafting stations and a cooking fire. There are also some members of the Twilight Cantors nearby, and a few monks that have been afflicted by the Bent Dance. Adara'hai can be found in front of the entrance to the temple; she will request your help in dealing with the invading dro'm-Athra.
Related Quests
[
edit
]
Maw of Lorkhaj Objective: Turn back the dro-m'Athra invasion at the Maw of Lorkhaj.
The Dark Moon's Jaws: Venture into the Maw of Lorkhaj.
Normal and Veteran Maw of Lorkhaj
[
edit
]
Normal Enemies
[
edit
]
Elite Enemies
[
edit
]
Set Name
Bonuses
Armor Weight
Moondancer

2 items: Adds 25-1096 Maximum Magicka
3 items: Gain Minor Slayer at all times, increasing your damage done to Dungeon, Trial, and Arena Monsters by 5%.
4 items: Adds 3-129 Weapon and Spell Damage
5 items: When you activate a synergy while in combat, you gain a shadow blessing that increases your Weapon and Spell Damage by 11-474 or a lunar blessing that increases your Magicka Recovery by 11-474 for 20 seconds. You can only have one blessing active at a time.

Light Armor
Twilight Remedy

2 items: Adds 3-129 Magicka Recovery
3 items: Gain Minor Aegis at all times, reducing your damage taken from Dungeon, Trial, and Arena Monsters by 5%.
4 items: Adds 3-129 Weapon and Spell Damage
5 items: When an ally activates your synergy, they heal themselves for 7704 Health over 15 seconds and gain Minor Force for the duration, increasing their Critical Damage by 10%. This effect scales off the higher of the synergy activator's Max Magicka or Stamina.

Light Armor
Roar of Alkosh

2 items: Adds 15-657 Critical Chance
3 items: Gain Minor Slayer at all times, increasing your damage done to Dungeon, Trial, and Arena Monsters by 5%.
4 items: Adds 3-129 Weapon and Spell Damage
5 items: When you activate a synergy, you send a shockwave from your position that deals 318 Physical Damage and an additional 1590 Physical Damage over 10 seconds. Reduces the Physical and Spell Resistance of any enemy hit by the amount of your Weapon Damage for the duration, up to a maximum of 6000. The damage scales off the higher of your Weapon or Spell Damage.

Medium Armor
Lunar Bastion

2 items: Adds 4% Healing Taken
3 items: Gain Minor Aegis at all times, reducing your damage taken from Dungeon, Trial, and Arena Monsters by 5%.
4 items: Adds 28-1206 Maximum Health
5 items: When you activate a synergy, you create a lunar blessing underneath you for 8 seconds. The blessing grants a stacking damage shield every 2 seconds that absorbs 63-2737 damage per stack for you and your group members within 8 meters. The damage shield lasts for 4 seconds and refreshes every tick. This effect can occur once every 20 seconds, and stacks up to 6 times.

Heavy Armor
Achievements
[
edit
]
There are several Achievements associated with this dungeon:
Gallery
[
edit
]