Lore:Thras
The UESPWiki – Your source for The Elder Scrolls since 1995
This page is currently being redesigned for the Lore Places Project (LPP).
The page may need work to meet the standards outlined on the project page.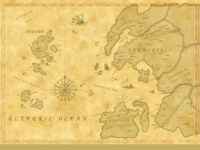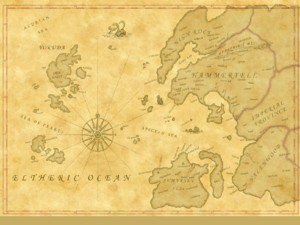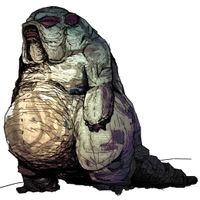 Thras, also known as the Coral Kingdoms and the Thrassian Archipelago, is an archipelago located southwest of the Chain in Tamriel,[1] within the Sea of Pearls.[2] It is the home of the Sload, and was the source of the deadly Thrassian Plague that swept Tamriel in 1E 2200. In response to the Plague, the people of Tamriel assembled the All Flags Navy, which sunk the islands of Thras, though the surviving Sload managed to bring the islands back to the surface.[1] The Pillar of Thras, a thousand-foot tall spiral of coral said to be a portal to Oblivion, stands on the largest island. The Sload make sacrifices here, and while many of them die, a few seem to disappear a moment before being dashed on the rocks.[3]
The geography of Thras appears to change over time. The earliest maps of Thras show a semi-circular group of sixteen islands, similar in formation to a partially-submerged coral atoll. The number and size of the islands varies significantly in maps charted over subsequent centuries. Agonio, the largest island in the archipelago, is depicted as much larger in the most recent maps than it was in the oldest. It is unknown if this fluctuation is caused by the tides or other, possibly unnatural means. The most consistent feature of Thras is a brackish lagoon found in the archipelago's center, where the Sload are able to move with relative quickness and grace using a network of coral formations and ancient shipwrecks.[4]
References
[
edit
]
^ a b Pocket Guide to the Empire, 1st Edition: The Wild Regions — Imperial Geographical Society,

2E 864

^ Journal of Tsona-Ei — Tsona-Ei