Lore:Camlorn
The UESPWiki – Your source for The Elder Scrolls since 1995
This page is currently being redesigned for the Lore Places Project (LPP).
The page may need work to meet the standards outlined on the project page.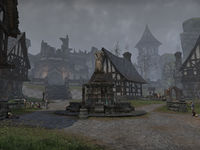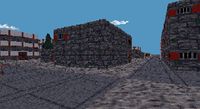 Camlorn is a major city of High Rock, located on its western coast. The city was previously the center of a kingdom, also called Camlorn,[1][2] which was founded in 2E 302.[3] It was once predominately a Nordic city, but was assimilated by the Bretons over time.[4]
In 2E 541, the city was sacked by a horde of Reachmen led by Durcorach the Black Drake. After the Reachmen were defeated, Camlorn, along with Daggerfall, Shornhelm, Evermore, and Wayrest, signed the first Daggerfall Covenant.[5]
In 2E 582, Camlorn was ruled by Duke Sebastien. During that year, the city was badly damaged by Faolchu the Reborn and his werewolf army. They were defeated by Daggerfall Covenant forces and the Soulless One soon afterwards,[6] and the city was eventually rebuilt.
In 3E 63, the Prince Pelagius, who would go on to become Pelagius Septim II, visited the city of Camlorn to woo the daughter of King Vulstaed, Quintilla, regarded as the most beauteous princess in Tamriel. She would later go on to become his second wife.
During the Imperial Simulacrum in the late-Third Era, the city-state of Camlorn was an active settlement. It was ruled by King Edward and had a rivalry with Daggerfall. Camlorn was neighbored by several settlements, including the Ebon Wastes to the south and Moonguard to the east.[7] Some time just prior to 3E 432, Kelmena, the daughter of Duke Senhyn of Camlorn, was married to Prince Camaron of Daggerfall, suggesting a possible unified kingdom along the western coast of Tamriel.[4]
Gallery
[
edit
]
Arena was originally conceived as a fighting game featuring a tournament that took the player to each of Tamriel's cities to challenge different gladiatorial teams. According to a file from that stage of development left behind in the final game, Camlorn's gladiatorial team would have been called "the Dragons".[UOL 1]
References
[
edit
]
Note: the following references are not from official sources. They are included to provide a rounder background to this article, but may not reflect established lore.