Lore:Ebon Wastes
The UESPWiki – Your source for The Elder Scrolls since 1995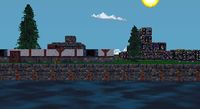 The Ebon Wastes is a settlement found in the region of Glenumbra, in the province of High Rock. The village was built from the Ebon Crypt, the former mausoleum of the noble family of Camlorn, the Gautiers, until it was taken over and subsequently abandoned.[1]
History
[
edit
]
The site of the modern-day settlement once contained the Ebon Crypt, the burial place for the Gautier family of Camlorn. But in time, the crypt was inhabited by the necromancer, Thrandyke the Repugnant, who used the many bodies for his various experiments.[1] It was later abandoned at some point, becoming a local legend across the surrounding region for containing a dark creature of immeasurable power.[2]
In 2E 582, the local legend garnered the interest of the Bloodthorn Cult of Reachman, who were invading Glenumbra during this time. Once they took hold of nearby Cath Bedraud, the cult soon explored the Ebon Crypt to take hold on the ancient power.[2] The spellcaster, Shorrin Thorncastle was able to summon this dark power, a hulking Bone Colossus, the Ebon Lord. Their operation ended when an adventurer delved into the Ebon Crypt and defeated both Thorncastle and the Ebon Lord.[3] The earliest reference to the settlement called Ebon Wastes is in 2E 864, it is south of Camlorn and the Skeffington Wood.[4]
During the Imperial Simulacrum in the late-Third Era, the village of Ebon Wastes was an active settlement. It was ruled by Lord Dunyrick and it had a rivalry with Moonguard.[5] Ebon Wastes was neighbored by several settlements, including Camlorn to the north and the Ilessen Hills to the south.[6]
Gallery
[
edit
]
References
[
edit
]
^ a b Ebon Crypt loading screen in ESO
^ Ebon Crypt delve in ESO
^ Ebon Wastes location and rumors in Arena