Lore:Rontha
The UESPWiki – Your source for The Elder Scrolls since 1995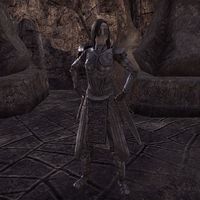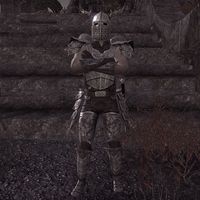 Rontha were an ancient tribe of Nedic people. The Rontha were nomadic and particularly warlike. They were the largest of the Nedic tribes who invaded the Stonefalls region of Morrowind[1] in the early years of First Era.[2] They were known for branding both people and items captured in battle.[1]
According to some sources, the Nedic invaders of the Morrowind were ancestors of contemporary Nords.[2]
History
[
edit
]
At some point in the Merethic Era,[3] and early First Era,[2] Nedic tribes had a presence in Stonefalls. The tribe of Rontha was the largest of the tribes who partook in the invasion.[1] The Nedes continued their conquest over Stonefalls, controlling most of the modern-day region within the span of a few short years, executing many of the population. They were led by Warchief (also known as General)[4] Ornskar.[5][6] Leading the battle against the Nedes were the Chimer brothers, General Balreth and Legate Sadal, considered the greatest Chimer warriors of their time. At first, the brothers and their Chimer armies attempted to push back the Nedes, but as they were slowly overwhelmed, their conflicts focused on defense, until they were left with remnants of their armies in a ruined Daedric temple of Boethiah hidden in a valley.[2] In a last-ditch effort, Balreth and Sadal underwent a ritual to turn into what is now known as the, Brothers of Strife, powerful entities that turned the ash red with the blood of both the Nedes and the Chimeri. Hearts of the invading Nedes, including Warchief Ornskar, were used to power the ritual.[7][4][8] Eventually, both brothers were sealed into Ash Mountain and the Tormented Spire respectively, by a group of Chimer mages from Vvardenfell led by Mavos Siloreth. The Brothers of Strife have been the source of legend and myth throughout Stonefalls ever since.[9][8]
References
[
edit
]