Online:Divine Prosecution
The UESPWiki – Your source for The Elder Scrolls since 1995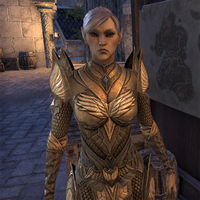 The Office of Divine Prosecution is a section of the Thalmor whose members serve as lawkeepers that uphold both secular and religious law on Summerset Isle, along with enforcing the complex social rules that govern Altmer society. They have recently taking to deputizing new arrivals to the island so contract work can be carried out on their behalf.
Members
[
edit
]
Named Members
Generic Members
The Divine Prosecution offer three types of daily repeatable quests.
These are given by Justiciar Farowel at Rinmawen's Plaza and involve defeating Summerset's World Bosses.
Exploratory
[
edit
]
These are given by Justiciar Tanorian at Reman's Plaza and involve exploring Summerset's Delves.
Abyssal Geysers
[
edit
]
These are given by Battlereeve Tanerline at the Plaza of the Hand and involve completing Summerset's Abyssal Geysers.
Alliances
Joinable NPC Guilds
Minor NPC Factions