Online:Proxy Queen Alwinarwe
The UESPWiki – Your source for The Elder Scrolls since 1995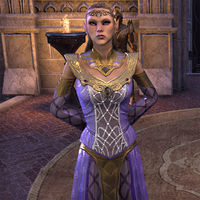 Proxy Queen Alwinarwe is the Altmer cousin of Queen Ayrenn and the regent ruler of Alinor, the capital of Summerset.
Related Quests
[
edit
]
Dialogue
[
edit
]
The Tower Sentinels
[
edit
]
When first talked to during the quest:
"We grow accustomed to the influx of visitors to our Blessed Isle, though your increasing numbers remain a source of concern to our nobles. We, however, find the many non-Altmer faces to be ... interesting.
What business brings you to the palace?"
After advancing the quest:
Is there anything I should know about the College of Sapiarchs?
"The newcomer wants us to blather on about the many wonders of the Blessed Isle? Why, by all means!
Let us sing praises of the Sapiarchs, reveal a recipe for an Altmer delicacy, and select the best House of Reveries performance for you to attend."
I'm getting the sense I may have offended you in some way.
"Indeed? Perhaps you aren't as dull as we first presumed.
My Queen has asked that we welcome you, so we shall tell you that the Sapiarchs are our teachers. The compound in Lillandril serves as the seat of their prestigious College."
I'll travel to Lillandril immediately.
"And we shall alert the portal master to accommodate you. Once inside, seek out Larnatille, Sapiarch of Arcanology. She leads the College and should hear the Ritemaster's warning.
There! We have done our deed for the day!"