Online:The Dreaming Cave
The UESPWiki – Your source for The Elder Scrolls since 1995

This page is currently being rewritten as part of the Online Quest Project.
The page is being both written and checked. All users are welcome to make changes to the page. If you make a change that is relevant to the project, please update this template accordingly, and make sure you have observed the project guidelines.

The Ritemaster used scrying magic to recall some of his missing memories. He took the Heart of Transparent Law into the Dreaming Cave beneath Ceporah Tower, but he still can't remember what happened after that. I need to help him remember.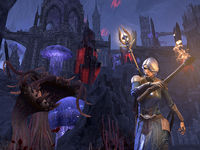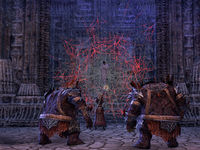 Quick Walkthrough
[
edit
]
Talk to Ritemaster Iachesis and meet him in the Dreaming Cave.
Hold the Dawnstar gem over the Daedric barrier.
Speak to the Ritemaster again.
Talk to Leythen and Valsirenn for further advice.
Find Razum-dar in Shimmerene and talk to him.
Meet Razum-dar and Sadara-do outside Eton Nir Grotto.
Make your way through the delve to the temple in the back and speak to the Meridia statue.
Head back to the Dreaming Cave and talk to the Ritemaster.
Enter the Spiral Skein with Valsirenn and make your way through the caves.
Find the Golden Knight at the end of the cave and free him.
Defend Valsirenn as she opens a portal back to Ceporah Tower.
Talk to Ritemaster Iachesis to plan your next move.
Detailed Walkthrough
[
edit
]
Quest Stages
[
edit
]
The Dreaming Cave
Finishes Quest
Journal Entry
Oriandea told me that the Ritemaster wants to see me his study in Ceporah Tower on Artaeum. I should go there and talk to him.

Objective: Talk to Ritemaster Iachesis

The Ritemaster asked me to hold the Dawnstar gem I retrieved up to the barrier that blocks the portal. He thinks that the path beyond the barrier leads to where he hid the Heart of Transparent Law.

Objective: Use the Dawnstar Gem

The Daedric barrier reacted when I held the Dawnstar gem toward it. It withdrew slightly. I should talk to the Ritemaster and find out what this means.

Objective: Talk to Ritemaster Iachesis

The Ritemaster believes that Leythen might be able to tell us how to find a priest of Meridia. I should talk to him. He's on the island of Artaeum, talking to Valsirenn.

Objective: Talk to Earl Leythen

We need to find a Meridia cultist. Valsirenn has an idea. I should speak to her.

Objective: Talk to Valsirenn

Leythen suggested that a cult of Meridia was operating north of Shimmerene, but that the Court of Bedlam eliminated them. Valsirenn reminded me that Razum-dar was investigating Daedric cults. I should be able to find him in Shimmerene.

Objective: Find Razum-dar in Shimmerene

The Divine Prosecution appears to be examining some strange scribbles of skeever heads on the walls of Shimmerene. I should ask them if they've seen Razum-dar.

Objective: Talk to Bailiff Roland

Scribbles of skeevers on the walls of Shimmerene might lead me to Razum-dar's current location.

Objective: Follow the Scribbles to Razum-dar

I found Razum-dar interrogating a pair of Peryite cultists. I should talk to him and ask him if he knows where I can find a priest of Meridia.

Objective: Talk to Razum-dar

Raz has a friend who belongs to the Meridia cult. He's going to make contact with her and then meet me outside the ruins of Eton Nir Grotto.

Objective: Meet Razum-dar at Eton Nir Grotto

I reached Eton Nir Grotto and located Razum-dar and his old friend Sadara-do. I should talk to her and see if she can help me make contact with Meridia.

Objective: Talk to Sadara-do

Sadara-do said that there's a Meridia shrine somewhere within the ruins of Eton Nir Grotto. She thinks we can contact her Prince once we reach that location.

Objective: Search Eton Nir Grotto for the Meridia Shrine

Sadara-do confirmed that the shrine to Meridia is just inside. I should proceed with caution in case the Court of Bedlam left something behind.

Objective: Investigate the Shrine

A voice has called to us from the statue of Meridia. I should approach the statue and speak to Meridia.

Objective: Talk to Meridia

Meridia informed me that the Golden Knight is Darien Gautier and wants me to rescue him. The Psijics can use the Dawnstar Gem to locate Darien in Mephala's Spiral Skein. I should return to the Dreaming Cave on Artaeum and inform the Ritemaster.

Objective: Tell the Ritemaster What You Learned

Optional Step: Talk to Razum-dar

The Ritemaster has opened a portal in the Dreaming Cave to send me and Valsirenn to Mephala's realm, the Spiral Skein.

Objective: Use the Dreaming Cave

The Dreaming Cave transported me to the Spiral Skein, but Valsirenn and I were separated. I need to find her before we start looking for Darien.

Objective: Find Valsirenn

I found Valsirenn and freed her from a web cocoon. I should make sure she's all right before we continue our search for Darien.

Objective: Talk to Valsirenn

Now that Valsirenn and I are together, we need to find the Golden Knight, Darien Gautier.

Objective: Find Darien Gautier

We found the Golden Knight, Darien Gautier. He's caught in a giant web and surrounded by Mephala's Daedra. I need to defeat them before I can set him free.

Objective: Rescue Darien Gautier

The Dawnstar's light shredded the webs and set the Golden Knight free. Now I should talk to Darien and see if he can restore the Dawnbreaker.

Objective: Talk to Darien Gautier

Now that we have Darien, we need to find a way to contact the Ritemaster so he can get us back to the Dreaming Cave. I should talk to Valsirenn outside the Spider Citadel.

Objective: Talk to Valsirenn

Valsirenn is attempting to open a portal back to the Dreaming Cave. We have to survive long enough for her to succeed.

Objective: Wait for the Portal to Open

Valsirenn opened a portal back to the Dreaming Cave. I should use the portal so I can return to the Ritemaster and let him know what happened.

Objective: Talk to Ritemaster Iachesis

Now that I'm back in the Dreaming Cave, I should consult with the Ritemaster about what we need to do next.

Objective: Talk to Ritemaster Iachesis