Online:Deshaan
The UESPWiki – Your source for The Elder Scrolls since 1995
The fertile valleys of Deshaan are home to lush fungal forests, deep kwama mines, and broad pastures where netches and guar graze. But all pales before the magnificence of Mournhold, home of the Tribunal and capital of the Ebonheart Pact.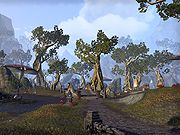 Deshaan is a region in southern Morrowind. Its plains, which surround the Tribunal Temple, are very fertile from frequent ash-falls. The southern reaches of the region gradually become more swampy, eventually merging with the swamps of Black Marsh.
The nomads of Morrowind, the Ashlanders, frequent the plains of Deshaan. They are easy to offend if you do not know their customs, but easy to please with a simple gift of any sort. If you are caught in an ash storm, they will usually provide shelter in return for a gift.
Settlements
[
edit
]
Caves, Ruins and Mines
[
edit
]
Dungeons
[
edit
]
Group Bosses
[
edit
]
Dolmens
[
edit
]
Mundus Stones
[
edit
]
Points of Interest
[
edit
]
Player Houses
[
edit
]
Wayshrines
[
edit
]
Unmarked Locations
[
edit
]
Quest Map
[
edit
]
| | |
| --- | --- |
| | Denotes a requisite path or quest. You must complete this before starting the subsequent quest. |
| | Denotes an optional path or quest. The subsequent story quest can be started without this being completed. |
| | Denotes an exclusive path or quest. Only one of the connected quests is required, and only one can be completed. |
| | Denotes a quest which is part of the main story chain. |
| | Denotes a story quest which is required for Cadwell's Almanac. |
| | Denotes a story pointer which is part of the main chain. |
| | Denotes a story pointer which is on an alternate path. |
| | Denotes a side quest which is required for Cadwell's Almanac. |
| | Denotes a quest which rewards a Skill Point. |
Alternate Story Pointers
Dungeon Quests
[
edit
]
Skyshards
[
edit
]
Clue
Location
Free from quarantine.
Right beside rocks from Maulborn Quaratine.
(map)
A Hlaalu victory in Narsis.
Behind Hlaalu Kinhouse.
(map)
A river view on Muth Gnarr's outskirts.
Behind Andaren House.
(map)
A twin falls in Mournhold.
In the water on rocks next to waterfall.
(map)
Near the remnants of a House caravan.
Beside Building in Mzithumz.
(map)
Follow the river that snakes south to its source.
On an island next to the waterfall.
(map)
Search near the cavern with three eyes.
Beside Darkshade Caverns, right of the entrance.
(map)
The right tower is Tal'Deic's left.
Behind the entrance arch.
(map)
Where ships dock and mushrooms Mire.
Atop of cliffs overlooking village & docks.
(map)
Where the dead walk, no memories linger.
Group, Forgotten Crypts, Top hallway with ghosts & wraith.
(map)
Lend me your ear.
Knife Ear Grotto Hallway on right of entrance.
(map)
Where a lady seeks kwama before the storm.
Lady Llarel's Shelter, room at the end with Lady Llarel.
(map)
Asleep in the depths, the Dwemer awakens.
Lower Bthanual, last large room with spiders.
(map)
Mine your step where the water drops in.
Triple circle mine, top room with Kagouti.
(map)
Go from Crags to riches.
Taleon's Crag, middle room in the water.
(map)
Where corpses till a garden of sand.
Corpse Garden, bottom room.
(map)
Set Name
Traits Needed
Bonuses
Crafting Sites
Armor of the Seducer
3

2 items: Adds 1-129 Magicka Recovery
3 items: Adds 12-1096 Maximum Magicka
4 items: Adds 1-129 Magicka Recovery
5 items: Reduces the cost of your Magicka abilities by 8%.

Temple of the Eight in Grahtwood
Fisherman's Island in Stormhaven
Berezan's Mine in Deshaan
Torug's Pact
3

2 items: Adds 1-129 Spell Damage
3 items: Adds 14-1206 Maximum Health
4 items: Adds 34-2975 Spell Resistance
5 items: Decreases weapon enchantment cooldown and increases potency by 30%.

Fisherman's Isle in Grahtwood
Hammerdeath Workshop in Stormhaven
Lake Hlaalu Retreat in Deshaan
Twilight's Embrace
3

2 items: Adds 14-1206 Maximum Health
3 items: Adds 9-833 Spell Critical
4 items: Adds 1-129 Spell Damage
5 items: Increases your healing received by 10%.

Vineshade Lodge in Grahtwood
Windridge Warehouse in Stormhaven
Avayan's Farm in Deshaan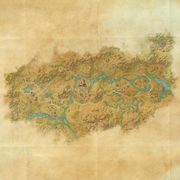 Gallery
[
edit
]