Online:Wrothgar
The UESPWiki – Your source for The Elder Scrolls since 1995

The Wrothgar Mountains have been home to northern Tamriel's Orcs since the beginning of recorded history. Invading armies have marched into these peaks countless times to suppress the fractious Orcs, but the clans always rise again.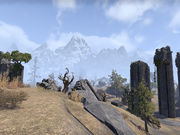 Wrothgar is a region situated in northeastern High Rock, north of Stormhaven. It was the first new neutral PvE zone with content for solo players and small groups to be released for Elder Scrolls Online. Orsinium, the ancestral capital of the Orsimer, is located in the eastern mountainous area within this region. King Kurog has declared Wrothgar as a "truce zone"; all adventurers are welcome, but agents of the Alliance War will not be tolerated here. There is animosity in the region between the followers of King Kurog, who are devoted to the ideals of Trinimac, and the chiefs of the Orcish clans, who follow the Code of Malacath.
It is a DLC zone in which players are battle-leveled to the level of the content.
Settlements
[
edit
]
Farms and Plantations
[
edit
]
Caves, Ruins and Mines
[
edit
]
Battlefields, Cemeteries and Crypts
[
edit
]
Dungeons
[
edit
]
Group Bosses
[
edit
]
Points of Interest
[
edit
]
Wayshrines
[
edit
]
Unmarked Locations
[
edit
]
Reforging Orsinium
[
edit
]
Side Quests
[
edit
]
Daily Quests
[
edit
]
For more information on these quests, see this page.
Skyshards
[
edit
]
To meet our site's higher standard of quality, this article or section may require cleanup.
The user who placed this here had the following concern:
Better location descriptions and grammar check
To leave a message about the cleanup for this article, please add it to this article's talk page.