Online:Vvardenfell
The UESPWiki – Your source for The Elder Scrolls since 1995

Surrounded by the Inner Sea, the sprawling volcanic island of Vvardenfell dominates northern Morrowind. Looming over this strange land is the ominous, ever-smoldering peak of Red Mountain.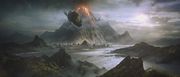 Vvardenfell is a large island located in Morrowind's Inner Sea.
The zone encompasses the entire island of Vvardenfell, although the regions of Sheogorad and Red Mountain are inaccessible. It is included with the Morrowind Chapter of the game.
Settlements
[
edit
]
Caves, Ruins and Mines
[
edit
]
Battlefields, Cemeteries and Crypts
[
edit
]
Dungeons
[
edit
]
Group Bosses
[
edit
]
Battlegrounds
[
edit
]
Points of Interest
[
edit
]
Player Houses
[
edit
]
Wayshrines
[
edit
]
Unmarked Locations
[
edit
]
Daedric Ruins
[
edit
]
Connected Realms
[
edit
]
Vvardenfell also contains many locations from The Elder Scrolls III: Morrowind that are otherwise unnamed (and in some cases, inaccessible) in ESO. These locations are documented at Ancestral Tombs, Unnamed Locations in Vvardenfell and Out-of-Bounds Locations in Vvardenfell.
Story Quests
[
edit
]
Morag Tong Quests
[
edit
]
House Telvanni Quests
[
edit
]
Side Quests
[
edit
]
Battlegrounds Quests
[
edit
]
Trials Quests
[
edit
]
Daily Quests
[
edit
]
Gallery
[
edit
]
Datamined map of Vvardenfell (larger)