Online:Ebonheart Pact
The UESPWiki – Your source for The Elder Scrolls since 1995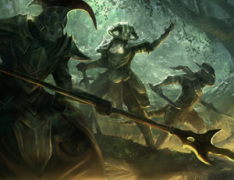 The Ebonheart Pact is one of the three joinable factions participating in the Alliance War, the other two being the Daggerfall Covenant and the Aldmeri Dominion. The crest of the Ebonheart Pact is a dragon, and its colors are red and black. It consists of four of the five Dunmer Great Houses of Morrowind, the Nordic kingdom of Eastern Skyrim and the Argonian tribes of northern Black Marsh. The alliance was reluctantly formed out of necessity; despite the three races' ancestral hatred for each other, they recognized the threat posed by their unified enemies, both at home and from across the sea, and banded together to protect their borders and freedom. Led by Jorunn the Skald-King, who presides over the Great Moot in the Pact's capital of Mournhold, the alliance seeks to defeat the corrupt Empire and preserve the independence of its homelands. Pact players will begin on Bleakrock Isle after being washed up unconscious on the shores of the island following their escape from Molag Bal's realm of Coldharbour.
The Great Houses hold a lot of power in Morrowind. All but House Telvanni agreed to join the Pact, and the Telvanni have now become somewhat estranged from the other houses because of it. Black Marsh has no monarchy, but certain Saxhleel tribes joined the Pact to protect their interests. Under the terms of the Alliance, slavery was nominally outlawed; but House Dres was allowed to keep non-Argonian slaves, with Khajiit being the most common race currently enslaved. All Argonian slaves were released.
For historical information, see the lore article.
Territory
[
edit
]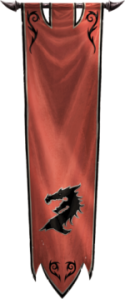 The Ebonheart Pact's home territory covers Eastern Skyrim and parts of the traditional provinces of Morrowind and Black Marsh.
The Pact also have a territorial claim over the eastern and northeastern parts of the Imperial heartlands.

 Quests with this marker are required for Cadwell's Almanac. For a full list of Almanac objectives, including any required side quests, please see Cadwell's Almanac: Ebonheart Pact.
Bleakrock Isle and Bal Foyen

Stonefalls

These quests serve to point you away from a location which the storyline has not yet reached. They are no longer available once the quest they point to has been completed, and will not be encountered if you follow the story in the order listed above.

Deshaan

These quests serve to point you away from a location which the storyline has not yet reached. They are no longer available once the quest they point to has been completed, and will not be encountered if you follow the story in the order listed above.

Shadowfen

These quests serve to point you away from a location which the storyline has not yet reached. They are no longer available once the quest they point to has been completed, and will not be encountered if you follow the story in the order listed above.

Eastmarch

The Rift

These quests serve to point you away from a location which the storyline has not yet reached. They are no longer available once the quest they point to has been completed, and will not be encountered if you follow the story in the order listed above.

To Coldharbour
Quest Map
[
edit
]
| | |
| --- | --- |
| | Denotes a requisite path or quest. You must complete this before starting the subsequent quest. |
| | Denotes an optional path or quest. The subsequent story quest can be started without this being completed. |
| | Denotes an exclusive path or quest. Only one of the connected quests is required, and only one can be completed. |
| | Denotes a quest which is part of the main story chain. |
| | Denotes a story quest which is required for Cadwell's Almanac. |
| | Denotes a story pointer which is part of the main chain. |
| | Denotes a story pointer which is on an alternate path. |
| | Denotes a side quest which is required for Cadwell's Almanac. |
| | Denotes a quest which rewards a Skill Point. |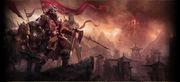 "The alliance between our races was born in dark times, when Nord, Dunmer and free Argonians fought as one to repel the invasion of the Akaviri slavemasters. Our greatest strength is the adversity we have overcome. Our resolve is glacial, our might is forged in fire, and our courage, cultivated by the beasts of the jungle. We are Ebonheart. We are as one. And by this, our victory is assured." —Jorunn the Skald-King
Generic Members
[
edit
]