Online:Legacy of the Ancestors
The UESPWiki – Your source for The Elder Scrolls since 1995
Zone:
Stonefalls
This quest is part of the Zone Story
Faction:
Ebonheart Pact
Objective:
 Davon's Watch — Stop the Covenant invasion of Davon's Watch.
Quest Giver:
Holgunn
Location(s):
Davon's Watch, House Indoril Crypt
Previous Quest:
Warning Davon's Watch
Next Quest:
Delaying the Daggers
Reward:
Average Leveled Gold
XP Gain:

Standard
A Nord commander named Holgunn asked me to help defend Davon's Watch.
Quick Walkthrough
[
edit
]
Speak to Holgunn about defending Davon's Watch from the Covenant.
Talk to Tanval Indoril in the Indoril Manor in the north of Davon's Watch.
Retrieve the skull of Nam Indoril from the tomb and give it to Tanval.
Detailed Walkthrough
[
edit
]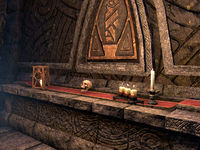 Talk to Holgunn, the commander at Davon's Watch. He needs your help defending Davon's Watch from the Daggerfall Covenant.
He sends you to Grandmaster Tanval Indoril in a manor in the north of the city. You can follow Holgunn or meet him there, if you choose to.
Tanval Indoril's plan is to have you retrieve a relic from beneath the city. It is guarded by his ancestors, making it unethical for anyone from House Indoril retrieving it. The tomb's entrance is across from his house. Once inside, you need to retrieve the skull of Nam Indoril. The skull is to the southeast, inside a chest guarded by Nam Indoril's spirit. The spirit says Tanval will "destroy us all". Retrieve his skull, and return to Tanval.
You tell Tanval what his ancestor said, but he says Nam refused to recognize the Covenant as a threat. He gives you some gold.
Quest Stages
[
edit
]
Legacy of the Ancestors
Finishes Quest
Journal Entry
I should speak to Holgunn at the docks in Davon's Watch.

Objective: Talk to Holgunn

(If you chose to escort Holgunn)

I should escort Holgunn to the manse in the center of Davon's Watch.

Objective: Follow Holgunn

(If you chose to meet Holgunn at the manse)

I should speak to Holgunn at the manse in Davon's Watch.

Objective: Meet Holgunn

I've joined Holgunn at the manse in Davon's Watch. He's introduced me to Tanval Indoril. I should speak to him.

Objective: Talk to Tanval Indoril

Tanval asked me to enter the tomb complex that begins across the square from the manse, and collect the Skull of Nam Indoril.

Objective: Collect the Skull of Nam Indoril

I've retrieved the Skull of Nam Indoril. I should speak to Tanval Indoril at the manse in Davon's Watch.

Objective: Talk to Tanval Indoril