Online:Stormhaven
The UESPWiki – Your source for The Elder Scrolls since 1995
Situated at the head of the strategic Iliac Bay, Stormhaven is the geographic center of High Rock, and also the home of the great trading city of Wayrest, capital of the Daggerfall Covenant.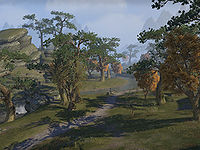 Stormhaven is the south-central region of High Rock. The city of Wayrest, the home of High King Emeric, is located here. Despite the signing of the Daggerfall Covenant with the Orcs and Redguards, and its acceptance by most Bretons, there is still an underlying resentment towards the Orcs from the Bretons of Wayrest.
Stormhaven is a temperate region of sparse woodlands and farmland, with the weather changing spasmodically between clear skies and heavy rain. In the west, the region of Alcaire is governed by Duke Nathaniel from Alcaire Castle. The regional knightly order, the Knights of the Flame, are based at the nearby Firebrand Keep, which also serves as a milegate on the road to Wrothgar. A watchtower marks the start of the hillside trail to Glenumbra, while Newgate guards the southern end of the mountain pass to Rivenspire. The city of Wayrest dominates the central region of Menevia, a lowland area which is also home to dreugh spawning grounds. The Spirit Wardens of Pariah Abbey have been investigating the increased activity of the cult known as the Supernal Dreamers, while the Midnight Union have been expanding their operations in the region. The Gavaudon region in eastern Stormhaven is the location of the ancient statue known as the Weeping Giant, beyond which lies the bridge to Bangkorai.
Settlements
[
edit
]
Farms and Plantations
[
edit
]
Caves, Ruins and Mines
[
edit
]
Battlefields, Cemeteries and Crypts
[
edit
]
Dungeons
[
edit
]
Group Bosses
[
edit
]
Dolmens
[
edit
]
Mundus Stones
[
edit
]
Points of Interest
[
edit
]
Player Houses
[
edit
]
Wayshrines
[
edit
]
Unmarked Locations
[
edit
]
Connected Realms
[
edit
]
Quest Map
[
edit
]
Paths always enter a quest from the top or left, and leave a quest from the bottom or right.
Denotes a requisite path or quest. You must complete this before starting the subsequent quest.
Denotes an optional path or quest. The subsequent story quest can be started without this being completed.
Denotes an exclusive path or quest. Only one of the connected quests is required, and only one can be completed.
Denotes a quest which is part of the main story chain.
Denotes a story quest which is required for Cadwell's Almanac.
Denotes a missable pointer quest which is part of the main chain.
Denotes a missable pointer quest which is on an alternate path.
Denotes a side quest which is required for Cadwell's Almanac.
Denotes a quest which rewards a Skill Point.
Alternate Story Pointers
Dungeon Quests
[
edit
]
Skyshards
[
edit
]
Clue
Location
Notes
On Koeglin's crown.
Rock cliff north of Koeglin Village, east of Supernal Dreamers Camp.
(map)
Atop the stairs of Newgate.
Spider Nest, right outside the door to Nightmare Crag Ritual
(map)
Beside the henge of Nightmare Crag.
North of Koeglin Mine, next to site
(map)
The foot of Wind Keep's falls.
South of Cumberland Falls, in water on rock.
(map)
Before a breach in Aphren's wall.
In Aphren's Hold top of waterfall
(map)
Atop the soulless tower.
South of the Soulshriven Tower, atop tower.
(map)
In the monster's pantry.
At Scrag's Larder
(map)
Where the giant's tears fall.
North of the Weeping Giant on platform.
(map)
Camped in sight of the eastern gate.
At the Ancient Altar.
(map)
Delve deep with the bear's claw.
Bearclaw Mine, big room on the side in a cart.
(map)
Locked behind Farangel's iron bars.
Farangel's Delve, Top square room in a barred room.
(map)
Mine your manners outside Steelheart.
Koeglin Mine, upper curve.
(map)
Explore the ruins north of Wind's Keep.
Norvulk Ruins, Big room downstairs to the left.
(map)
Comb the abbey's catacombs.
Pariah Catacombs, big room, niche on the right.
(map)
West of Firebrand, deep beneath the tower.
Portdun Watch, Large middle room.
(map)
Explore the ruins of broken marrow.
Bonesnap Ruins, small side room with ogres.
(map)
Set Name
Bonuses
Armor Weight
Dreamer's Mantle

2 items: Adds 28-1206 Maximum Health
3 items: Adds 28-1206 Maximum Health
4 items: Adds 25-1096 Maximum Magicka
5 items: When you take damage while you are under 35% Health, you knockdown all enemies within 4 meters of you for 2 seconds and restore 24-1058 Magicka. This effect can occur once every 7 seconds.

Light Armor
Night Terror

2 items: Adds 25-1096 Maximum Stamina
3 items: Reduces the radius you can be detected while Sneaking by 2 meters. Reduces the cost of Sneak by 10-27%.
4 items: Adds 28-1206 Maximum Health
5 items: When you take melee damage, you deal 46-2000 Poison Damage to the attacker. This effect can occur once every 1 second.

Medium Armor
Storm Knight's Plate

2 items: Adds 34-1487 Armor
3 items: Adds 34-1487 Armor
4 items: Adds 28-1206 Maximum Health
5 items: When you take non-Physical Damage, you deal 57-2466 Shock damage to all enemies within 5 meters of you every 2 seconds for 6 seconds. This effect can occur once every 6 seconds.

Heavy Armor
Wayrest Sewers
[
edit
]
Scalecaller Peak
[
edit
]
Set Name
Traits Needed
Bonuses
Crafting Sites
Armor of the Seducer
3

2 items: Adds 3-129 Magicka Recovery
3 items: Adds 25-1096 Maximum Magicka
4 items: Adds 3-129 Magicka Recovery
5 items: Reduces the cost of your Magicka abilities by 10%.

Temple of the Eight in Grahtwood
Fisherman's Island in Stormhaven
Berezan's Mine in Deshaan

Torug's Pact
3

2 items: Adds 34-1487 Armor
3 items: Adds 28-1206 Maximum Health
4 items: Adds 34-1487 Armor
5 items: Decreases weapon enchantment cooldown by 33% and increases non Oblivion Damage weapon enchantment potency by 45%.

Fisherman's Isle in Grahtwood
Hammerdeath Workshop in Stormhaven
Lake Hlaalu Retreat in Deshaan

Twilight's Embrace
3

2 items: Adds 25-1096 Maximum Magicka
3 items: Adds 15-657 Spell Critical
4 items: Adds 3-129 Spell Damage
5 items: Increases your healing received by 10%.

Vineshade Lodge in Grahtwood
Windridge Warehouse in Stormhaven
Avayan's Farm in Deshaan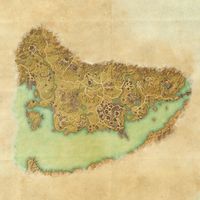 Gallery
[
edit
]