Lore:Eldertide Circle
The UESPWiki – Your source for The Elder Scrolls since 1995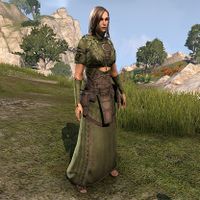 The Eldertide Circle is one of the three prominent Druidic Circles in the Systres Archipelago and live in enclaves throughout the islands such as Tuinh in Galen[1] and the Coral Cliffs in Amenos.[2] They have long been feuding with the Breton coin-barons appointed by the Reman Empire in 1E 2704.[3] The Eldertide believe that the civilization of Man and Mer has chained nature down, and thus they seek to balance the natural world and mortal's greed by washing it away, metaphorically and physically.[4][5]
The Eldertide are able to create the Reefborn, creatures of coral that mimic Nirn's creatures, a process that requires living sacrifices.[5] It is unknown if the Eldertide are also responsible for Reefborn that are present in other islands found in the Abecean Sea.[6]
The Oakensoul Ring artifact showcases druidic master craftsmanship with some Direnni influence. It represents the authority of the Draoife, and its power comes from the various components that make up the ring's anatomy. The ring's stones larimar gems represents the Eldertide and contain draoifoglyphs--druidic runes.[7]
History
[
edit
]
The Eldertide along with the Firesong and Stonelore circles, originally made up the unified group known as the Druids of Galen before they dissolved into these three major sects, each with their own interpretation of Y'ffre's will.[8][9] No longer bound to a line of druidic kings,[10] their symbology disappeared almost overnight.[11] Despite their separation, to symbolize their unity matters more and that they share the same goals, the druidic circles came to shaping knot-work into a triquetra,[12] a symbol that would become adopted by civilized Bretons.[13]
Circa 2E 582, the Mages Guild sought to research druidic magic. The volatile magic of the Eldertide was prioritized.[14]
Gallery
[
edit
]
See Also
[
edit
]
References
[
edit
]