Lore:Windsorrow
The UESPWiki – Your source for The Elder Scrolls since 1995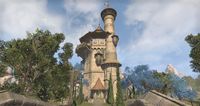 "A female ancient, lovely and fair, was said to be so attuned to the breeze that moved over the isles that her clothing and hair constantly moved, as if stirred by the wind. " —Sorrows of the Wind[1]
Windsorrow is a mournful spirit who inhabited and haunted the area surrounding the tower of Tor Draioch. Although some considered the existence of such a spirit nothing more than myth, many locals claimed to have seen motes of light that blink in and out of sight. They believed that this phenomena was a remnant of the spirit.[1] It was indeed true that the spirit named Windsorrow existed.[2]
History
[
edit
]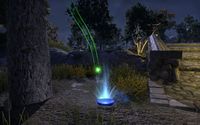 Numerous legends revolve around Windsorrow, but the most widely spread one is referred to as "Sorrows of the Wind." Although this tale was deemed fanciful, it was believed it could have a kernel of truth.[1]
According to legend, Windsorrow was once a beautiful and fair ancient nature being resembling Men and Mer, who fell in love with a chieftain and bore him two children. However, after the death of her mother, and her husband's betrayal with another woman, who also killed her children, she was consumed by grief, anger and sorrow. Soon she released the gusts of wind across the entire High Isle and leaving a trail of destruction in her wake. A group of brave individuals: druids, chieftains, warriors, and witches, intervened and fought her to stop the rampage and restore peace to the land.[1]
The legend claims that Windsorrow's grave is located close to the tower, but its exact whereabouts are not revealed. According to the legend, the motes that dance around the tower may represent not only the spirit of Windsorrow, but also the spirits of her children who were buried with her. Other versions of the story suggest that Windsorrow was not defeated, only temporarily pacified, and that she may one day resurface to destroy High Isle piece by piece.[1]
However, the existence of the Windsorrow spirit was indeed confirmed. In 2E 582 she was accidentally disturbed from her rest by a spell cast by a young Khajiit magician named Ember. This disturbance caused the previously harmless motes to become a dangerous threat and awakened the ancient spirit, taking on a form similar to that of a wispmother. With the help of a traveling adventurer, Ember was able to reverse the effects of her spell and put the spirit of Windsorrow back to rest.[2][3][4]
See Also
[
edit
]
References
[
edit
]