Lore:Lutea
The UESPWiki – Your source for The Elder Scrolls since 1995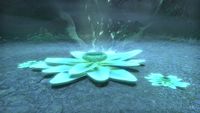 Lutea is Nereid, and one of the spirits of lost nature inhabiting Systres Archipelago. She was the oldest of the three spirits of lost nature who were rehabilitated and taken care of by the Druids of the Stonelore Circle in the underground tunnels of Deeproot within their sacred site of Earthen Root Enclave.[1][2] She possessed a powerful ability to manipulate and control water and ice.[2]
History
[
edit
]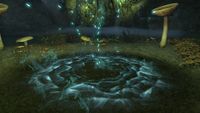 Lutea used to reside in the depths of an underground river, but it's unclear how or when she was relocated to the Earthen Root Enclave. As the oldest of the lost nature spirits, she had little contact with the mortal world and had a strong desire for human blood. However, it was uncertain if she understood the deadly consequence of draining mortal blood permanently.[1][2]
The Stonelore druids attempted to help and rehabilitate her, but their early efforts to pacify her by creating a pool of water in her cavern proved insufficient. Lutea still longed for the flowing river she once called home. As of the 2E 582, the efforts to assist her ceased until the Stonelore druids could create a river for her to live in. Until then, they emphasized safety in transporting water in the Deeproot to avoid any accidents with Lutea.[1] Magic was employed to contain her, and she was sealed with a combination of water and nature.[2]
In 2E 582 the Earthen Root Enclave was attacked by the Druids of the Firesong Circle. A group of the Undaunted helped the Stonelore Circle defend the sacred site. It is unknown whether they sought to slay Lutea to obtain the boon associated with her powers, or left the spirit to her own devices.[2][3]
See Also
[
edit
]
For game-specific information, see the Elder Scrolls Online

article.
References
[
edit
]