Lore:Fingers of Kynareth
The UESPWiki – Your source for The Elder Scrolls since 1995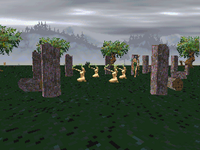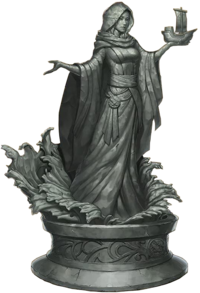 The Fingers of Kynareth are spirits of the air associated with the Goddess of Winds and the Heavens Kynareth. Three spirits: Amaro, Pina, and Tallatha were given this title, but it is unknown whether there are more fingers of Kynareth. They are acknowledged by the witches of Skeffington Coven and occasionally requested for aid.[1]
A witch of the Skeffington Coven Mynista Skeffington claimed to have an intimate acquaintance with the Fingers. In 1E 2920 she requested them to aid her to protect Turala and her traveling companions.[1]
Despite this intimate acquaintance, the members of the Skeffington Coven believed that although the spirits are great companions, it is hard to rely on them. Witches of the coven claimed that "the spirits, while marvelous companions and faultless tellers of truth, are often hazy about the when and hows", and that one can not blame them, because concepts such as "when and how mean so little to them".[2]
References
[
edit
]