Lore:Knights of the Dragon
The UESPWiki – Your source for The Elder Scrolls since 1995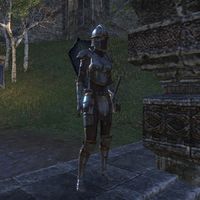 This article is about the knightly order. For the general class of warriors, see Dragon Knights.
The Knights of the Dragon are a knightly order which has the official duty of protecting the city and royal family of Daggerfall, especially the King who is known as "the Dragon".[1]
During the Alliance War, King Casimir insisted that the knights be kept as a separate entity despite Daggerfall's part in the Covenant.[2] The knights have been led by many prestigious figures, including the honorable Lord Bridwell, the greatest hero of the War of Betony.[3]
To be considered for admission into the fighting order, one must demonstrate exceptional combat skills and a reputation for honor and loyalty to Daggerfall and the King. In return, the knights are treated with unparalleled respect.
For more information, see the Daggerfall and ESO articles.
The Knights of the Dragon follow an oath: "I vow to serve the Dragon. I lay down my life, my gold, and my sacred honor for my King. His word is my order, my sword is his arm. Our lives are one."[1]
References
[
edit
]
^ Chamberlain Croix's dialogue in ESO
^ Events of Daggerfall