Online:Buoyant Armiger Style
The UESPWiki – Your source for The Elder Scrolls since 1995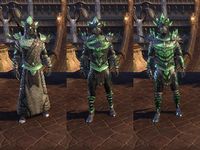 The Buoyant Armiger Style is a crafting skill that can only be learned by reading the chapters of the

Crafting Motif 47: Buoyant Armiger Style book. These chapters can only be found in treasure chests around Vvardenfell or within the Halls of Fabrication.
Crafting Buoyant Armiger items requires

Volcanic Viridian, which can be refined from 10 pieces of

Viridian Dust, harvested from ore, cloth, and wood nodes in Vvardenfell. Like all styles, it is purely cosmetic. Items will have the same stats regardless of the style you use.
Type
Items
Light Armor
Hat
Epaulets
Jerkin
Robe
Gloves
Sash
Breeches
Shoes
Medium Armor
Helmet
Arm Cops
Jack
Bracers
Belt
Guards
Boots
Heavy Armor
Helm
Pauldrons
Cuirass
Gauntlets
Girdle
Greaves
Sabatons
Weapons and Shields
[
edit
]
Weapons and Shields
Dagger
Sword
Axe
Mace
Greatsword
Battle Axe
Maul
Bow
Staff
Shield
Based on the patch notes, it is likely that getting the achievement Champion of Vivec may increase the chances of finding the chapters of this motif.
This style bears a strong resemblance to the Glass armor seen in Morrowind, which was the signature armor of the Buoyant Armigers.