Online:Outfit System
The UESPWiki – Your source for The Elder Scrolls since 1995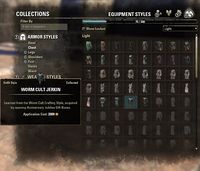 The Outfit System is a system that was added in Update 17 whereby players can create outfits in a style that they have learned (on any character), effectively changing the appearance of any items worn. Outfits can be edited at any time at an Outfit Station for a cost in gold.
Outfits can be considered similar to Costumes, however they allow a greater degree of customisation - allowing you to tailor the style of each piece of armor and weapon that is equipped. For example, a heavy armor helm that is crafted in the Bosmer style can be changed to appear like a light armor hood from the Akaviri style.
Similarly, the appearance of weapons can also be changed as long as they remain in the same category. For example, a one-handed sword can be made to appear as an axe, mace or dagger - but not as any two-handed weapon. Outfit styles are categorized into Clothing, Light, Medium, Heavy, Undaunted, and Signature for Armor styles; Axe, Dagger, Hammer, and Sword for one-handed weapon styles; and Axe, Hammer, and Sword for two-handed weapon styles. Staves, bows, and shields have no subcategories.
To use a style, you must have learned that style - usually by reading a Style Page or a Motif Chapter. Known styles are shared across your account, so any styles known by any of your characters may be used by all of them. Known styles can be checked in the "Collections" menu.
Any Outfit created using the system is purely cosmetic. Items will have the same stats regardless of the style you use.
Dyes are also available as part of the Outfit System granting further customisation. You are given a default set of colors to choose from, but more can be obtained by unlocking certain achievements.
Outfit Slots
[
edit
]
Players are granted one free outfit slot per character, with additional outfit slots purchasable via the Crown Store for 1,500 Crowns. You may purchase up to 9 additional slots per character, but these are not shared between characters.
Outfit Stations
[
edit
]
Outfits are created at Outfit Stations, which can be found on almost any town. Before the system existed, these were known as Dye Stations.
Outfit Stations may be purchased for a player home from Faustina Curio for the price of 0000500500 

, or alternatively the older Dye Stations may still be purchased from Rolis Hlaalu for 000003535 

. Both have the same functionality and the only difference between the two is their price and appearance.
Cost per Piece
[
edit
]
Creating Outfits cost gold and each piece added increases the cost, depending on the rarity of the item. For information about the exact cost of applying a specific outfit style, see the main Styles page.
Basic alliance styles, such as High Elf, Bosmer, Redguard, cost 50-300  per piece.
Collector's Edition styles are free to apply.
Rare items, such as a Telvanni-style weapon, can cost up to 6,000  per piece.
Small armor pieces, including shoulder, hands, waist, and feet, are the cheapest. Large pieces, including head, chest, and legs, cost twice that. One-handed weapons and shields cost 3 times the small armor price, while 2-handed weapons (including bows and staves) cost 6 times the small armor price.
You may choose to hide your helmet as part of the Outfit. This option is free and appears at the top when selecting the Head style.
Using Dyes costs 50  a piece for armor and 350  for all weapons and shields. This charge is per color slot on each item, so it can get very pricey.
You can save Outfits in one of your Build slots while using an Armory. However, changing the outfit will affect all builds that equip that outfit, therefore this cannot be used to create multiple outfits on a singular outfit slot.
Alternatively, you can purchase Outfit Tokens from the Crown Store, which grant you a free single-use outfit change regardless of how many items you change or how rare your style choices.