Online:Glenmoril Wyrd Style
The UESPWiki – Your source for The Elder Scrolls since 1995
Glenmoril Wyrd Style
Material
None
Outfit System
Armor Styles
1
Weapon Styles
1
Small Armor
1000 
1-Handed
3000 
Large Armor
2000 
2-Handed
6000 
The Glenmoril Wyrd Style is an outfit style inspired by the Glenmoril Wyrd. It cannot be crafted, and is only available as part of the Outfit System. Pieces are in Light Armor and Weapons only. Pages are obtainable through the 2019 Witches Festival event.
Style Pages
[
edit
]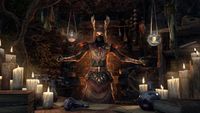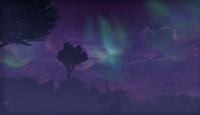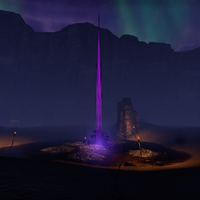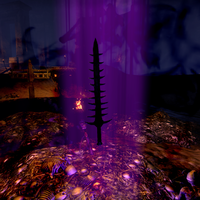 Both armor and weapon style pages have a chance to be obtained from Dremora Plunder Skulls. Armor pages drop directly as items, however weapon pages require you to follow a treasure map linked to a particular zone which leads to the style page. They are typically found near places with a supernatural or ghostly significance - or locations associated with the Glenmoril Wyrd.
Initially, these style page are not found as chest loot like regular treasure, but instead spawns as the weapon itself, surrounded by a large spike of purple light. As you approach the spike, the sky darkens and turns purple and green aurora are visible in the sky. Taking the weapon immediately adds the style page to your inventory, and the sky returns back to normal.
Style pages can also be bought from The Impresario for 00000055 

each, however these are account-bound and cannot be sold or traded.
Weapons
[
edit
]
Armor
Hat
Epaulets
Jerkin
Robe
Gloves
Sash
Breeches
Shoes
Weapons and Shields
[
edit
]
Weapons and Shields
Dagger
Sword
Axe
Mace
Greatsword
Battle Axe
Maul
Bow
Staff
Shield
Gallery
[
edit
]
Weapons
[
edit
]