Skyrim:Unmarked Places
The UESPWiki – Your source for The Elder Scrolls since 1995
This page or section is incomplete. You can help by adding to it.
Needs official Prima Guide location names + new locations added by Creation Club
For more information, see the help files, the style guide, and this article's talk page.
This article describes places of interest in Skyrim that are not marked on your map, are not represented by icons on your compass, and aren't directly related to any quests. Some of the places on this list do not have official names or titles, in which case unofficial names have been used to describe the places.
Unmarked Bandit and Forsworn Camps
[
edit
]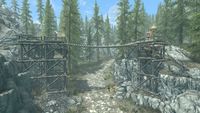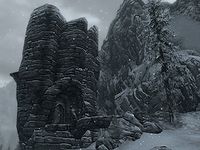 Hunter, Fishermen and Other Camps
[
edit
]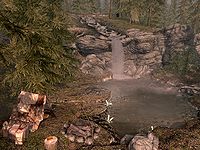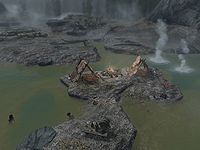 Shrines
[
edit
]
East of Gjukar's Monument is a shrine of Zenithar located on a stone platform in the ruins of a small fort. Alongside the shrine is a satchel, two silver ingots, a copy of the Speech skill book 2920, Second Seed, v5, and some tongs. Above the shrine, on top of a stone archway is a chest. (map)
South of Swindler's Den is a shrine of Stendarr sitting between two pillars and two braziers. Alongside the shrine is a goblet, a leveled gem, a strongbox, a salt pile, and a copy of the Enchanting skill book Twin Secrets. (map)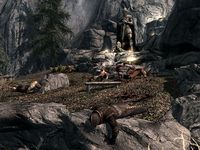 Caravan Remains and Shipwrecks
[
edit
]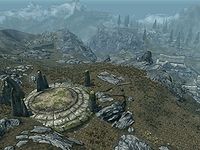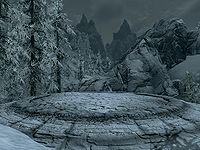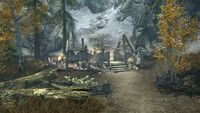 Creature Lairs
[
edit
]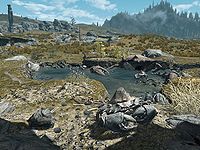 Unmarked Ruins and Monuments
[
edit
]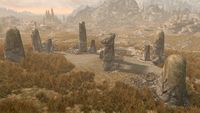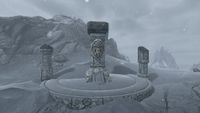 Smaller Places of Interest
[
edit
]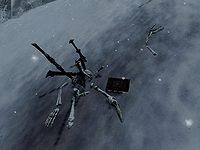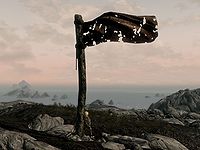 On the mountain high above the Great Lift at Alftand, there is a tattered flag flying. At the base of the flag is a leveled mace, a leather helmet, and a satchel. Further back on the mountain is a silver ore vein. (map)
West of Sunderstone Gorge and south of Fort Sungard is a dragon barrow. About 100 feet south of the dragon barrow is a "fairy circle", a ring of bare ground surrounded by several varieties of harvestable mushrooms. (map)
In the mountains almost due east of Ragnvald, between it and Bthardamz, a dead Orc bandit can be found draped over a novice-locked chest containing minor loot, with a random one-handed weapon beside it in addition to the one carried by the Orc. Two dead wolves next to him hint at the cause of his death. (map)
East of Haemar's Shame, on the east side of the mountain pass between Helgen and the western lands of the Rift, a pile of stones marks a steep, narrow path heading east from the road up through a small notch in the rock walls of the pass. A quicksilver ore deposit and a copy of the Alteration skill book Daughter of the Niben can be found at the end of this path. (map)
On an island west of Broken Oar Grotto there is a flag on a pole, at the base of which is an unlootable skeleton. There are also two gold ore veins on the island. (map)
West-northwest of Haemar's Shame, east of Falkreath's Stormcloaks camp, is an overhanging rock face. Under this is a skeleton with a coin purse, along with a few animal bones, as if this was used as an animal's den. There are two snowberry bushes here as well. (map)
Due west of Graywinter Watch, on a spit of land sticking out into the middle of the river, is a novice-locked chest hidden among some driftwood. (map)
There is a waterfall in the River Yorgrim, due west of Anga's Mill, with a dry alcove behind it. The alcove holds an adept-locked strong box, a barrel containing alchemical ingredients, a lootable skeleton, two quicksilver ingots, a weapon on top of the crate, and a buried lootable chest. A third ingot is underwater a few paces downstream. Nearby there are mudcrabs, Nordic barnacle clusters and a camp. (map)
Southwest of Lake Yorgrim, along the path between Nightgate Inn and Irkngthand, you will find a pile of rubble with a lootable skeleton, a coin purse, and an unlocked Dwemer chest. As you approach, two frostbite spiders will drop from two flanking trees and attack. (map)
About halfway along the path from Salvius Farm and Ragnvald (almost due west of The Lover Stone) you will come across some dilapidated masonry with a spriggan and/or hagraven in the same area. Next to a large round piece of masonry, partially hidden by vegetation is an unlocked Dwemer chest. (map)
Up along the mountainside due east of Wolfskull Cave, and due south of the Steed Stone, is a dead female bandit with two leveled potions and a sack of food, right next to a tree. To find them, walk along the road east from the cave until you come to a broken tree trunk on the left; she is above that. Just past this is the stump of a tree which marks a place where you can climb high enough to jump up to the ledge she is on. (map)
North-northwest of Nilheim, next to a rock face, are a pile of three barrels and a sack with a copy of the Pickpocket skill book Aevar Stone-Singer on the ground between them. There is a canis root growing nearby and a few paces to the northwest is an iron ore vein. (map)
High in the mountains above the road leading to Markarth, equidistant between Valthume and Old Hroldan, which are to the south-southwest and north-northwest respectively, is a stone planter containing a juniper tree with an unlocked Dwemer chest and a copy of the Enchanting skill book Enchanter's Primer. It is further east near a path with an unmarked Forsworn Camp consisting of two Forsworn on two hay piles around a campfire, that leads to Gloomreach. (map)
On the south bank of the Karth River, opposite the entrance to Harmugstahl is a square stone arch with a planter underneath and steps leading up to it. On the edge of the planter is a copy of the Restoration skill book Withershins. There is also an iron ore vein a few paces further south. (map)
Due west of Dragontooth Crater is a pool with an undressed corpse marked as 'captive'. Her clothes, shoes, journal, satchel, gold ring, and silver emerald necklace are all neatly folded and laid out on the shore. (map)
On the glacier, overlooking Saarthal to the west is an unlocked chest by skeletal remains of a deer and human. It is much closer to Saarthal than the mammoth. (map)
A short distance west of the Shrine to Peryite, on the far side of the mount that the shrine is built on, is a Dwemer tower-like structure, inhabited by a wispmother and three wisps. There are several pieces of broken masonry and steam pipes, along with an unlocked Dwarven chest located a few paces north of the main structure. (map)
West of Old Hroldan Inn on a river isle is an apprentice-locked common chest. On the rock ledge above is a precariously placed bird's nest. (map)
East of Bruca's Leap Redoubt and southwest of Dragon Bridge Overlook at the bottom of the middle waterfall is an apprentice-locked dungeon boss chest. It's near a fallen tree crossing the river. (map)
Southeast of Ivarstead and south of Geirmund's Hall is a novice necromancer at a curious "altar" reanimating chickens. A wooden box at the base of the altar contains a giant's toe, a soul gem and chicken eggs. The necromancer carries the conjuration skill book 2920, Frostfall, v10. (map)
North of Pinewatch is a conjurer at an altar with embalming tools, weapon, burial urn and the conjuration skill book 2920, Hearth Fire, v9. The skeleton on the altar has coins over the eyes. (map)
West of Shor's Stone and northeast of Boulderfall Cave on a rocky shelf are two skeletons and a novice-locked common chest. (map)
Southeast of Angarvunde and northwest of Avanchnzel is a lean-to sheltering an apprentice-locked strong box, two lockpicks and two leveled potions (healing and invisibility). Two canis roots grow next to it. (map)
Northwest of Orotheim on the river shore in a tiny alcove is a lootable skeleton next to a novice-locked common chest. (map)
Southwest, next to Orphan Rock is a lootable skeleton, helm and coin purse in a hollow fallen tree. Mora tapinella grows on the tree. (map)
North of North Brittleshin Pass in the valley leading to it is an apprentice-locked strong box in a hollow fallen tree. (map)
North of North Brittleshin Pass just on the other side of the road is an apprentice-locked strong box inside a circle of small dead trees and bloodied grasses. (map)
East of Eldergleam Sanctuary and northwest of The Atronach Stone is a crate with soul gems laying on top and an enchanting skill book A Tragedy in Black. (map)
Southeast of Winterhold on the shore at the mouth of an icy canyon are two skeletons. One is caught in a bear trap. An Apothecary's Satchel contains the alchemy skill book Mannimarco, King of Worms. (map)
Northeast of Windhelm and south of Snow Veil Sanctum is a coin bag sitting on the lockpicking skill book The Wolf Queen, v1. (map)
Southeast of wreck of The Pride of Tel Vos on an island is a helm inside the trunk of a hollow fallen tree along with the heavy armor skill book Chimarvamidium. (map)
Due west of Reachcliff Cave and north-northeast of Purewater Run is a lone common chest on the southern river shore. (map)
Northeast of Ivarstead and southwest of Darkwater Crossing on the southern shore of a river is a dungeon chest. That section of the river has keyhole shape and is at the base of a waterfall almost due south of and very close to the location of Aevar Stone-Singer (as described above). (map)
Northeast of Broken Tower Redoubt and southwest of Robber's Gorge in a crevice is a cart and books including the two-handed skill book The Legendary Sancre Tor. (map) The crevice opens to a small hollow and at the top is a skeleton and pickaxe on a corundum ore vein. (map)
West of Redoran's Retreat and due south of Greenspring Hollow is a rock pile with an iron helm in the mountain flowers at the base. (map)
Slightly northeast of Mistwatch, a lone giant stands in mourning over a dead mammoth. He is non-hostile unless attacked.
On the island due south-southeast of the wreck of The Pride of Vos, which is normally home to a leveled wild animal is a broken off tree trunk, with a hollowed out end concealing a copy of Chimarvamidium and a random enchanted helmet.
On a hillside due east of Shrine to Peryite, found by traveling from Ragnvald towards Bthardamz. There is a dead bandit laying on a locked chest with a random weapon on the ground beside them and the bodies of two wolves around them. From here there is dragon mound to the southeast and the Reach Imperial camp to the northeast, if the Stormcloaks are in charge in Markarth.
Just above the entrance to Red Eagle Redoubt, south-southeast of the marker is a stone table with a large stone claw-shaped statue beside the table like those found in barrows throughout Skyrim. There are a couple of hanging mosses growing from it and behind it is an unlocked wooden chest. The easiest way of reaching this is to climb the wooden stairs to the raised lookout point outside the entrance to the redoubt, where an archer Forsworn keeps watch and then follow the slope up to your right. There is also a silver ore vein slightly to the north of the table.