Skyrim:Quicksilver
The UESPWiki – Your source for The Elder Scrolls since 1995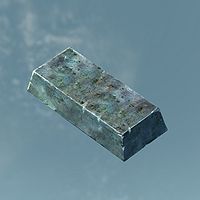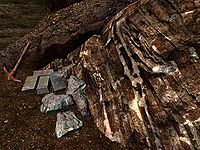 Quicksilver is a metal with a low melting point that is melded with Moonstone when forging elven weapons and elven gilded armor, and with Ebony and Steel when forging Nordic carved armor and weapons.
Overview
Name
ID
Quicksilver Ore
00

05ace2

1
25
Quicksilver Ingot
00

05ada0

1
60
3 quicksilver ores are obtained by mining quicksilver ore veins.
1 quicksilver ingot is obtained by smelting 2 quicksilver ores.
Mineral Sources
In addition to the following guaranteed sources, the best random locations are:
Quicksilver ingots may be sold by blacksmiths starting at level 18 and general goods merchants starting at level 10.
Quicksilver ore may be randomly found in Falmer loot starting at level 5.
There are a total of 57 veins, 10 ores, and 13 ingots available in the game. The following list only includes notable locations, in particular locations where multiple veins are located near each other and interior areas containing veins or ingots. The Quicksilver Veins category contains a more complete list of places containing single veins, and all exterior ore veins are shown on (map).
Notes