Online:Season of the Dragon
The UESPWiki – Your source for The Elder Scrolls since 1995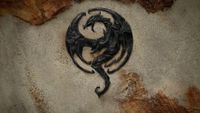 The Season of the Dragon is the third main story arc of the Elder Scrolls Online, following on from the Main Quest and Daedric War Storyline. Like the Daedric War storyline, it is not a single in-game questline. Instead, it is an overarching story which spans multiple content updates in the form of DLC, Chapters, and free quests, covering the entirety of 2019's content releases. It involves a plot by Euraxia Tharn to unleash the Dragons from the Halls of Colossus by way of tricking her half-brother into using the Wrathstone. The newly-freed rage of Dragons led by Kaalgrontiid proceed to pursue their own plans of world domination. The legends of Khunzar-ri and the practice of necromancy frequently play a part in the story.
The eventual inclusions of dragons has been hinted at in the past, with the character stories of Tharayya, Abnur Tharn, Cadwell, and Sai Sahan from older quests leading into their involvement in the story. Completing the prologue quest The Halls of Colossus will unlock a set of nine daily quests which can be obtained from Zahari. The Hall of the Lunar Champion house contains pedestals for lunar champion tablets obtained from the story quests.
Quest Order
[
edit
]
Due to the multiple content releases involved in the Season of the Dragon, there are no prerequisites for completing these quests and they can be done in any order. However, they do follow a chronological order as listed here.
Wrathstone Storyline — Quests to obtain the Wrathstone

The Guiding Light: Find the way to an ancient Ayleid city and recover a historical artifact.
Lock and Keystone: Search the depths of a Dwemer vault for a powerful artifact.
Northern Elsweyr Storyline — Quests to topple the Euraxians' rule in Anequina and defeat Kaalgrontiid's dragons
Scalebreaker and Dragonhold Quests — It has been stated that the story will continue with in the Scalebreaker DLC in quarter 3 and Dragonhold DLC in quarter 4 of 2019