Online:Two Queens
The UESPWiki – Your source for The Elder Scrolls since 1995
This page is currently being rewritten as part of the Online Quest Project.
The page is being both written and checked. All users are welcome to make changes to the page. If you make a change that is relevant to the project, please update this template accordingly, and make sure you have observed the project guidelines.

After successfully defending Riverhold from Euraxia's forces, Abnur Tharn and the war council think the time has come to assault Rimmen and remove the Usurper Queen from the throne.
Quick Walkthrough
[
edit
]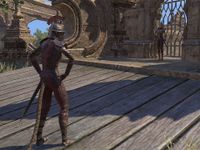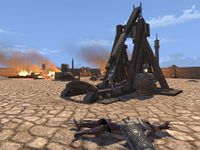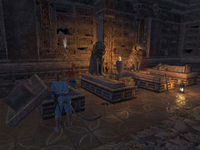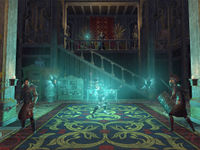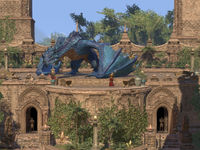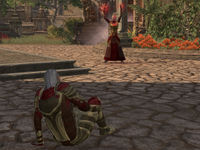 Talk with the assault team near Rimmen.
Destroy the siege weapon platforms.
Regroup by the sewer entrance.
Infiltrate Rimmen Palace.
Survive an ambush by Zumog Phoom.
Save Cadwell.
Kill Euraxia Tharn.
Talk to Khamira.
Detailed Walkthrough
[
edit
]
Quest Stages
[
edit
]
Two Queens
Finishes Quest
Journal Entry
Lyrrsazhi brought me a message. Abnur Tharn and the war council await my presence in K'har Zhab Hall in Riverhold. I should go and see what Abnur Tharn has to say.

Objective: Talk to Abnur Tharn

Abnur Tharn suggests that a small strike team stands the best chance of getting into the Rimmen Palace to deal with Euraxia. Gharesh-ri might have an idea on how to get inside. I should speak to him.

Objective: Talk to Lord Gharesh-ri

The old castellan, Aneshi, cares for a shrine to Khunzar-ri located southeast of Riverhold. I should go to the shrine and try to find him.

Objective: Find Aneshi

I found Aneshi, the former castellan of Rimmen Palace. I should talk to him and see if he knows a way we can get into the palace without being seen.

Objective: Talk to Aneshi

Aneshi wrote down directions to where he hid the master key to the palace. I should gather the note and read what it says.

Objective: Take Aneshi's Note

Aneshi hid the master key near ruins to the west. I should follow the directions he wrote down and acquire the master key.

Objective: Find the Master Key

Objective Hint: Seek the Tilted Pillar

Objective Hint: Follow Aneshi's Directions

The strike force is gathering near the wall just outside Rimmen. Now that I have the master key, I should go and meet them there.

Objective: Rendezvous in Rimmen

I rendezvoused with Abnur Tharn and the rest of the strike force outside the walls of Rimmen. I should talk to him to find out about our next move.

Objective: Talk to Abnur Tharn

Captain Nala-do waits near the palace in Rimmen. I need to meet up with her so we can disable the siege weapons aimed into the city.

Objective: Talk to Captain Nala-do

After Captain Nala-do deals with the Euraxian guarding the gate, I need to enter the south weapons platform and destroy the siege weapons aimed into the city.

Objective: Destroy the South Siege Weapons

Hidden Objective: Distract the Guards

Now I should meet Captain Nala-do at the north weapons platform so I can destroy the siege weapons stationed there.

Objective: Destroy the North Siege Weapons

Hidden Objective: Distract the Guards

(After Destroying the Siege Weapons)

Objective Hint: Watch for Khamira's Handiwork

Now that the siege weapons have been destroyed, I should rendezvous with the rest of the strike force at the sewer entrance.

Objective: Rendezvous at the Sewer Entrance

I should speak to Captain Nala-do before we head into the sewers to find the door to the crypts.

Objective: Talk to Captain Nala-do

I need to accompany Captain Nala-do and Zamarak into the sewer so we can locate the door to the crypts. From there, we can find a way up into the palace and rendezvous with the rest of the strike force.

Objective: Enter the Palace Sewer

The master key that Aneshi provided should open the door to the crypts. From there, we can search the crypts and find a way to enter the palace. Then we can meet up with the rest of the strike force.

Objective: Find a Way into the Palace

Zamarak says that the crypt for the royal family has been disturbed. I should investigate.

Objective: Examine the Royal Crypt

I should speak to Zamarak and see what he thinks happened to the royal graves.

Objective: Talk to Zamarak

The door ahead should lead up into Rimmen Palace. We should go in and rendezvous with the rest of the strike force.

Objective: Enter Rimmen Palace

Now that we're inside the palace, we need to locate Khamira and the other members of the strike force.

Objective: Search Rimmen Palace

Zamarak says that we need to go to the Chapel of the Guiding Moons. From there, we can go through the Great Hall to reach the Royal Chambers.

Objective: Go to the Chapel of the Guiding Moons

The necromancer Zumog Phoom trapped us in the chapel with a horde of undead. I need to protect Zamarak while he creates an exit out of here.

Objective: Escape the Chapel

Zamarak will stay behind to guard our rear while Captain Nala-do and I reach the Great Hall. From there, we can enter the Royal Chambers and confront Euraxia.

Objective: Enter the Great Hall

Zumog Phoom has trapped Cadwell inside some kind of necromantic spell. I need to destroy the necromantic glass that focuses the spell in order to free him.

Objective: Destroy the Necromantic Glass

Cadwell is free. Now I need to get to the Royal Chambers and confront Euraxia.

Objective: Go to the Royal Chambers

Abnur Tharn and Khamira entered the palace courtyard to eavesdrop on Euraxia and the Dragon Mulaamnir. I should follow them.

Objective: Enter the Palace Courtyard

The Dragons and the necromancers have deserted Euraxia Tharn. This is our chance to defeat the Usurper Queen and free Rimmen.

Objective: Kill Euraxia Tharn

Euraxia has been defeated, but at what cost? Captain Nala-do fell in the battle and Khamira had to watch her parents die again. She ordered us to go to the throne room. I should make sure she's all right.

Objective: Go to the Palace Throne Room

Optional Step: Talk to Abnur Tharn

We gathered inside the palace throne room after defeating Euraxia. I should talk to Khamira now.

Objective: Talk to Khamira

Euraxia the Usurper Queen has been dethroned. Though reeling from recent events, Khamira has claimed her birthright to lead the Anequine Khajiit. But the necromancers and the Dragons remain to threaten the land. I should talk to Khamira.

Objective: Talk to Khamira